MRC Ramps Up Musk Hero Worship Over 'Twitter Files' Release
Topic: Media Research Center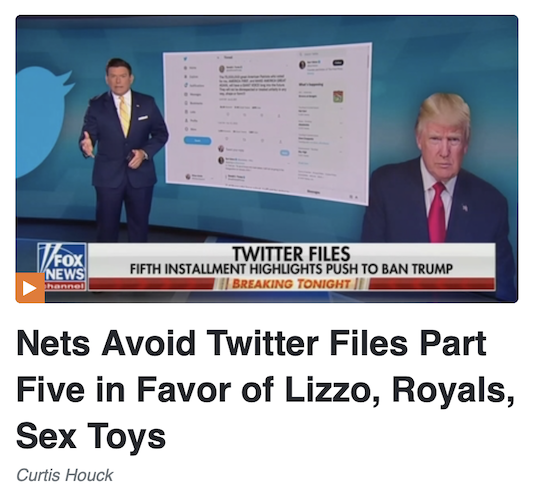 As the selectively released "Twitter files" continued to roll out to Elon Musk's handpicked journalists, the Media Research Center kept cranking out the stenography, as well as the usual whining that non-right-wing media outlets weren't parroting Musk's narrative:
This happened as even Fox News host Trey Gowdy downplayed the importance of the selectively released files.
In between, however, P.J. Gladnick served up a little hero worship in a Dec.12 post:
At just two minutes before 6 AM Eastern Time on Sunday morning, Elon Musk drove the left and their media allies nuts with a short tweet: "My pronouns are Prosecute/Fauci."

This quickly resulted in a wall of fury to the extent that even media outlets that have been engaged in Censorship Denialism such as CBS News were forced into mentioning the Twitter Files.

Gladnick concluded by gushing over the prospect of Twitter releasing "COVID files": "The reaction to the Twitter Covid Files could be so extreme as to smoke out ABC and NBC News into joining CBS News by forcing them to also break out of their Censorship Denialism and mention the previously taboo topic of the Twitter Files."
Catherine Salgado cheered another Musk move in a Dec. 13 post:
New Twitter CEO Elon Musk has reportedly dissolved Twitter's Trust and Safety Council, as the Twitter Files uncover details of Twitter's previous biased censorship.

Forbes reported that the 100 "activists, academics and civic leaders" of the Trust and Safety Council were informed by email Monday of the council's dissolution, hours before being set to meet with Twitter executives about supposed "recent issues" on the platform. The "About" link for the council on Twitter's website now brings up the short message, "Nothing to see here."

Reportedly, former Head of Trust and Safety Yoel Roth, who recently left Twitter, and former Twitter General Counsel Vijaya Gadde deliberately orchestrated the ban of then-President Donald Trump from Twitter in 2021, even though Trump broke no rules.

While the Trust and Safety Council was meant to advise Twitter about safety, Twitter's censorship of conservatives while ignoring actual violent incitement indicates the council's definition of safety might have been politically biased.
Of course, nobody imagined that the president of the United States would help to incite a violent insurrection, which is why there may not have been a prohibition against it. She also failed to mention that Musk disbanded the council about an hour before it was scheduled to meet with Musk and other Twitter officials, suggesting a bit of cowardice on his part.
Brian Bradley, meanwhile, complained that the crappy working conditions Musk is making Twitter employees work under was being exposed:
Instead of reporting honestly on the newsworthy revelations of the Twitter Files, The Washington Post continues to take personal shots at the platform's new CEO Elon Musk.

On Dec. 9, Washington Post columnist Michelle Singletary released a "perspective" piece that hit Musk for such absurdities as requiring high work ethic from his employees and laying off workers to cut costs.

"Looking back at 2022 … Elon Musk emerged as the grand marshal of maniacal management," Singletary wrote in a piece titled, "Here's why Elon Musk is the worst kind of boss."

Singletary continued: "Those who remained were told to commit, in writing, to a 'hardcore' workplace or quit. 'This will mean working long hours at high intensity,' Musk said in an email to employees. Hundreds chose unemployment, refusing to sign a pledge to perform at levels best reserved for robots."

[...]

It appears that Singletary left a key part out of her commentary: There is a value in hard work, and bosses value it.
Bradley then whined about how the Post pointed out the right-wing leanings of the reporters Musk hand-picked for his "Twitter files" release:
Meanwhile, when The Post did write something of substance covering the Twitter Files, it attempted to smear the reporters breaking the story. The publication stealth-deleted a description of journalists Matt Taibbi and Bari Weiss – who have reported on the Twitter Files – as "conservative," Fox News reported. Taibbi and Weiss have not identified themselves as conservative, and it appears that The Post had only included the reference initially to discredit the release of the damning Twitter Files.
Bradley offered no evidence to prove that Taibbi and Weiss are not conservative -- their denials mean nothing -- and the fat that he cited the decidedly right-wing Fox News to complain about this adds another level of irony.
Bill D'Agostino served up a time-count piece:
NewsBusters has found liberal cable news networks CNN and MSNBC have almost completely ignored the first five installments of the Twitter Files, which revealed Twitter employees engaged in rampant censorship of conservatives. Since the first set of documents were published on the evening of December 2, less half of one percent of the coverage on either network has even bothered to mention the story.

MRC analysts examined all regular programming on both CNN and MSNBC between 7:00 p.m. Eastern on December 2 and 7:00 pm ET on December 13. Not including commercials, MSNBC aired approximately 133 hours of news during that period, of which only 0.26 percent (1,253 seconds) included any mention of the Twitter Files. Of the approximate 130 hours of non-commercial time on CNN during the same span, just 0.34 percent (1,574 seconds) dealt with this topic.
D'Agostino was silent on how much time Fox News spent on the story.
Alex Christy devoted a Dec. 15 post to lashing out at CNN for not adhering to the right-wing narrative on the files:
Thursday's CNN This Morning had a peculiar take on the Twitter Files and revelations into what went into the decision to block the New York Post story on Hunter Biden's laptop. Not only was it alleged that the Twitter Files actually made Twitter look good, but it was also claimed that it was Elon Musk that was violating the spirit of free speech.

Against a chyron headline that read, "Culture War Theater," co-host Poppy Harlow began by asking senior media reporter Oliver Darcy, "the Hunter Biden laptop and the New York Post story that squashed weeks ahead of the election. What has come out of the Twitter Files on that?"

Darcy began by reporting, "that Jack Dorsey admitted that suppressing the New York Poststory was a mistake, so that he did, I think, last year."

Beyond that, he also added that these things happen because of the nature of the business, "So, the Twitter Files, though, they really showed the-- I think the messy content moderation that was happening behind the scenes and I think we're seeing and it's probably no surprise but we're seeing that not everyone agrees, is on the same page when they're making these complex decisions."

That conveniently ignores the mental gymnastics Twitter had to perform to justify the ban, but Darcy nevertheless continued, "I will say on this specific Twitter Files drop, I thought what was really noteworthy was Elon Musk's handpicked reporter, Matt Tiabbi [sic], said that there was no evidence of government involvement in trying to suppress this story and that was a big claim that Elon Musk had made earlier when he was hyping these Twitter Files. I think that's very important to point out here."
Christy further complained that CNN pointed out that Taibbi was Musk's "handpicked" journalist chosen to put out Musk's preferred narrative, huffing in response, "Even if Musk had given the materials to Darcy for a traditional news story, he would still be a 'handpicked' journalist, just one that CNN approves of."
Posted by Terry K. at 9:40 PM EST
Updated: Sunday, January 15, 2023 11:05 PM EST