MRC Psaki-Bashing, Doocy-Fluffing Watch
Topic: Media Research Center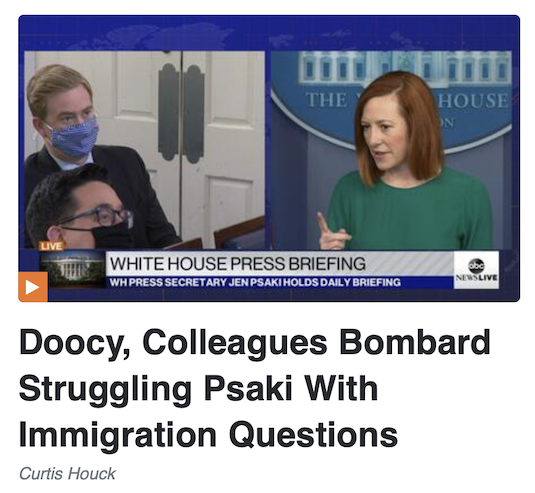 Let's not pretend that Curtis Houck is doing anything important with his daily critiques of press secretary Jen Psaki's daily briefings. He has a click-generating template he slavishly follows -- Psaki must be trashed every. single. day, and Fox News reporters like Peter Doocy must be lionized every. single. day.
On March 15, Houck gleefully wrote about a purportedly "struggling" and "visibly peeved" Psaki:
Amid the constant buzzing of her cellphone on the podium, White House Press Secretary Jen Psaki faced an onslaught of immigration questions on Monday from Fox News's Peter Doocy and some liberal reporters about the Biden administration's denial of the border crisis.

And in the case of Doocy's colleagues, they brought the heat by grilling Psaki over the White House's shameful defense of Governor Andrew Cuomo (D-NY) in refusing to call for his resignation and/or condemn his handling of nursing homes.
Houck went on to complain that Psaki wasn't "admitting that they have an open borders policy." That would be because there isn't one -- but Houck gets paid to insist that there is.
Houck also gets paid to call it the "Biden border crisis," and on May 17, Houck found another fox News reporter to gush over for hostile questioning of Psaki, under the snotty headline "JEEZ: WH's Psaki Gets Personal in Battle with Fox's Kristin Fisher Over Biden's Border Crisis":
With another day in the books in which the Biden border crisis continued to spin out of control, White House Press Secretary Jen Psaki found herself Wednesday under the gun from multiple reporters at the daily briefing, including Fox News's Kristin Fisher and questions about journalists being denied ride-alongs and whether there's a cap for illegal immigrant children being allowed into the United States.

Instead of responding to them, Psaki went personal and attacked Fisher on the latter question and asked her whether she would want to send ten-year-olds back to Latin America on another dangerous journey.

[...]

Instead of admitting there won't be a cap, Psaki sought to box Fisher in by questioning her humanity: "Should we send some kids who are 10 back at a certain point? Is that what you're asking me?"

Whereas Jim Acosta would have lost his mind, Fisher calmly rebutted Psaki and re-asked the question.
We don't recall Houck ever complaining when his p[revious crush, Kayleigh McEnany, went "personal" on reporters.
On March 18, Houck sadly didn't have a Fox News rpeorter to root for. But he found another right-wing hurler to gush over:
With no one from Fox News in the White House Briefing Room, it fell to others on Thursday to pick up the slack. Along the way, Press Secretary Jen Psaki engaged in quite the Freudian slip that there was indeed a "crisis on the border," Real Clear Politics' Philip Wegmann asked tough questions on masks and religious freedom, and one reporter grossly tied attacks on Asian Americans to criticizing communist China.

CBS White House correspondent Ed O'Keefe had asked Psaki about whether the U.S. sending AstraZenca vaccines to Mexico had any strings attached in terms of border assistance when Psaki replied that there weren't any preconditions of vaccines in exchange for help "in dealing with the crisis on the border."

Psaki's slip went unaddressed for almost 15 minutes until Wegmann took notice:"When you were talking a moment about how to go about diplomatic negotiations between the United States and Mexico, you said 'crisis on the border.'"

Wegmann asked if that "reflect[ed] any change in the administration's view of things," but Psaki stated three times in a row that it didn't and made clear their definition for the border crisis would instead be called a challenge.
Houck will never tell you this, but Weghmann and Real Clear Politics have a right-wing bias.
Posted by Terry K. at 6:41 PM EDT