MRC Sides With Racist 'Bachelor' Contestant, Mocks Host For Backing Off His Defense Of Her
Topic: Media Research Center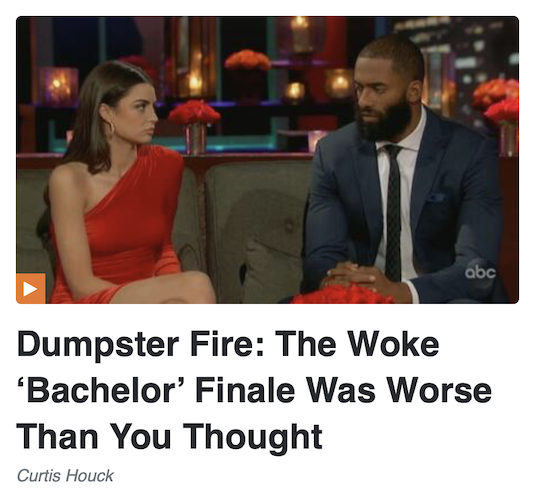 Even "The Bachelor" isn't safe from the Media Research Center's right-wing concern-trolling.
In February, Tierin-Rose Mandelburg complained that "Bachelor" contestant Rachael Kirkconnell was "canceled" for a "racism controversy," in which it was revealed that she allegedly bullied girls in high school for liking black men -- though she omitted that Kirkconnell also spread far-right QAnon memes on social media -- but she was really upset that "Bachelor" host Chris Harrison was criticized for initially coming to Kirkconnell's defense, though he later backpedaled. Mandelburg groused that "the blame and woke police are after Harrison," and that "Harrison knew cancel culture would be after him which is probably why he had such an eloquent apology prepared."
On Feb. 14, Alexa Moutevelis mocked Harrison for his "pathetic" backpedaling and for leaving the show:
There's more The Bachelor drama off-screen than on this season, much of it centering on host Chris Harrison and racism. Harrison's already done one apology tour, but it wasn't enough of a sacrifice to the woke gods, so now he's "stepping aside" from the show as a sign that he'll be walking the straight and narrow on the "path to anti-racism" from now on.

[...]

The following day, Saturday, Harrison issued his second groveling apology in a week in which he announced on Instagram he "will be stepping aside for a period of time and will not join for the After the Final Rose special."

It was such a weak, sniveling apology he actually included the line, "I humble myself before all of you."
Moutevelis also whitewashed Kirkconnell's offenses, falsely suggesting that the only thing she did was take part in an "antebellum plantation-themed fraternity ball" while in college.
On Feb. 22, Gabriela Pariseau huffed that Harrison was targeted because he "had defended a contestant, Rachel Kirkconnell, against allegations of racism which, according to the Twitter mob, was the wrong thing to do." Pariseau did not offer any guidance on when defending someone's racism is ever the right thing to do. She further attacked "Bachelorette" contestant Tayshia Adams for holding Harrison accountable:
In Adams' eyes, Harrison's chance to "prove himself" began with his ridiculous apology but does not stop there. He must show that he is ashamed of his behavior. To regain respect and approval, Harrison must be a weak man, take his undeserved beating, and re-educate himself on the intricacies of racism that he does not understand. Once he comes back from 'rehab for racists' he can rejoin the vanguard of progressive society and hopefully one day Bachelor Nation. Although, cancel culture is the most unforgiving weapon lately.
Gabriel Hays also downplayed Kirkconnell's racism in a March 4 post, citing only the "college photo of her at an 'antebellum-themed' party" and that "she had 'liked' an image of people posing with a Confederate flag" -- conveniently omitting the high school racism and QAnon embrace.His main goal, though, was to join in the mocking of Harrison for not embracing his defense of a racist:
The most pathetic and emasculating part of Harrison's interview came when he assured GMA audiences that he had been undergoing racial sensitivity training. "I sought out leading scholars, teachers, faith leaders, people like Dr. Michael Eric Dyson, who I am so grateful for, and I've also been working closely with a race educator and strategist. I thank them all," Harrison stated.

What a tragic sight. The poor Bachelor host went and "deprogrammed" himself in front of millions of people. This is what our woke masters expect us to do if we want to be relevant in this society.
"Bachelor" superfan Curtis Houck had his own take after the show's finale, which began by defending Kirkconnell:
The 25th season of ABC's The Bachelor came to a dramatic end on Monday with star Matt James selecting Rachael Kirkconnell and, with taping having wrapped months ago, we learned that James had become an insecure, woke leftist and kicked Kirkconnell to the curb after social media posts showed Kirkconnell attended an antebellum-themed plantation party in college.

And when brought face-to-face with Kirkconnell for the first time, James dismissed a sobbing Kirkconnell's apologies because he doesn't "wanna be emotionally responsible for those tears."

Though they weren't discussed on the show, other "crimes" included Kirkconnell having been born in Georgia and then for having allegedly bullied someone in high school for liking Black men, engaged in "brownfishing," showed a belief in Q-Anon by posting about human trafficking, and liked pro-Trump social media posts (including posts about Prager U). Before the season even started, Reddit was out for blood.
At no point did Houck (or anyone else at the MRC) disavow Kirkconnell's racist and extremist behavior. Instead, he cheered how "Kirkconnell came off as contrite, insisting in her solo segment that "I don't wanna...sit here and victimize myself" and rejected ["woke FS1 host" Emmanuel] Acho's invitation to blame her education, family members, or hometown as having contributed to her lack of wokeness." He further whined that Kirkconnell suffered a "woke beatdown" from the titular bachelor for this season -- who, by the way, was the first-ever black bachelor -- then concluded by huffing: "Somewhere, Robin DiAngelo and Ibram X. Kendi must have been watching this and, upon seeing Kirkconnell's life destroyed, felt a sense of warmness in their hearts."
In the headline of his post, Houck called this a "dumpster fire." Perhaps the real dumpster fire is at the MRC, where he and his fellow employees won't call out racist behavior and sympathize with the perpetrator.
Posted by Terry K. at 8:32 PM EDT
Updated: Sunday, April 18, 2021 9:29 PM EDT