CNS Unemployment Coverage Distortion Watch
Topic: CNSNews.com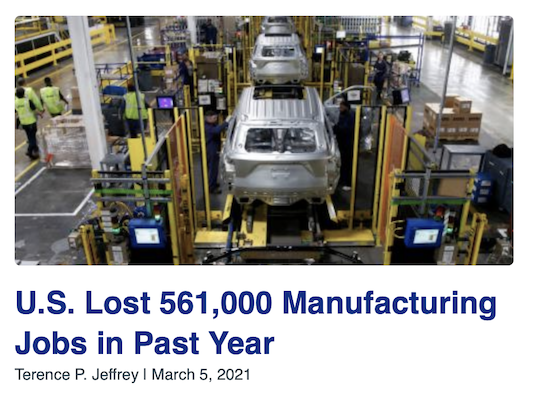 For the first full month of Joe Biden's presidency, it seems that CNSNews.com is reluctant to give him credit for job growth. In her lead story on February's numbers, Susan Jones is still waxing nostalgic about how many jobs Donald Trump created before the pandemic and comparing the's numbers to pre-pandemic totals:
The economy added a healthy 379,000 jobs in February, and the unemployment rate dropped a tenth of a point to 6.2 percent.

A year ago February, the nation's unemployment rate was 3.5 percent, a fifty-year low; but that was before coronavirus caused parts of the economy to shut down.

The number of employed Americans, 150,239,000, increased in February for the tenth month in a row. That's a gain of 208,000 from January, as more states start to relax COVID restrictions.

The 150,239,000 employed Americans in February is well below the record 158,735,000 set during the Trump administration. But it's close to the levels set in late 2015/early 2016 during the Obama-Biden administration.
That's not the only right-wing Jones pushed in her article. She also uncritically quoted right-wing economist (and CNS columnist) Stephen Moore claming that the lower unemployment rate "shows we don't need another $2 trillion dollar stimulus bill. We need to get states reopened. The number of COVID cases is down dramatically. The success of Operation Warp Speed and the vaccine have been the best stimulus of all."
CNS served up the usual sidebars this time around: one from editor Terry Jeffrey lamenting that "Despite adding 21,000 manufacturing jobs in the month of February, the United States has lost 561,000 in the past year," and the other from Craig Bannister conceding that "The unemployment rate for Hispanics and Latinos improved slightly in February as more than a quarter-million both entered the labor force and found jobs and the nation's businesses continued reopening from the coronavirus-prompted shutdown."
Posted by Terry K. at 2:27 AM EDT