MRC Complains GOP Congressman Was Called Out For Attending White Nationalist's Gathering
Topic: Media Research Center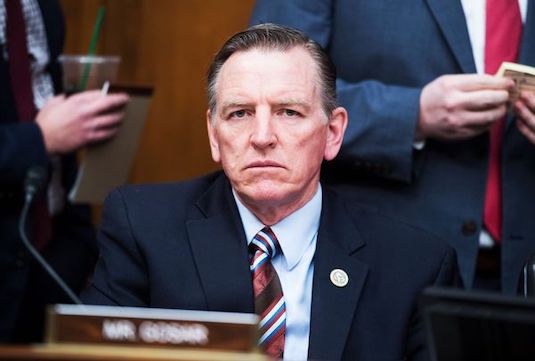 In a March 9 Media Research Center post, Donovan Newkirk complained that "MSNBC host Joy Reid and frequent cable news hack Dean Obeidallah grossly speculated about a hypothetical retirement of Senate Minority Leader Mitch McConnell (R-KY) as a chance to move Kentucky AG Daniel Cameron (R) into the Senate and accused every single person who works in and votes for the Republican Party as nothing more than a 'dangerous cocktail' of 'white supremacy,' 'fascism," and 'lies.'" He further groused the Obeidallah "proceeded to tie all Republicans to Congressman Paul Gosar (R-AZ) and a far-right group," quoting him as saying, "Now you've got Paul Gosar going to white supremacist events. And there's no backlash."
Curiously, Newkirk said nothing further, refusing to explain that reference. Since he won't, we have to.
In late February, Gosar was the keynote speaker at something called the America First Political Action Conference. Sounds innocuous -- until you learn that AFPAC was organized by Nick Fuentes, a white nationalist who has express anti-Semitic views. He was one of several far-right activists who shipped up crowds outside the Capitol on Jan. 6, and who said a few days earlier, "What can you and I do to a state legislator — besides kill him?"
The MRC hasn't otherwise mentioned Gosar's appearance at this far-right confab, let alone criticize him for it.Perhaps that's because it's a fan of Gosar. In December, Alexander Hall gushed that Gosar was a co-sponsor of a bill that "would remove key protections from companies who engage in biased censorship." Last year, the MRC defended Gosar's use of derogatory terms like "Wuhan virus" to describe coronavirus. And in 2018, the MRC complained that CNN did a segment on Gosar's family members hating him so much they endorsed his Democratic opponent.
That's the kind of thing the MRC would like you to please ignore.
Posted by Terry K. at 10:07 PM EDT