MRC Loves Judge's Wacky Anti-Media Rant
Topic: Media Research Center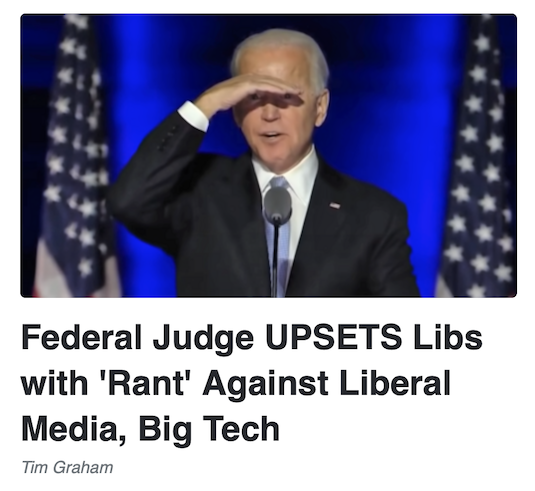 Whenever someone in government parrots right-wing attacks on the "liberal media," the Media Research Center loves it -- after all, it's been seeding that narrative for three decades. So when a semi-retired judge ranted against libel protections for the media, and it was criticized by actual journalists, Tim Graham was on hand to love it:
Liberal journalists were upset on Friday when Laurence Silberman, a Reagan-appointed judge who's now in senior status (semi-retired) ripped into the partisan and censorious behavior of the liberal media and Big Tech.

At Politico, Josh Gerstein used the passionate words: "Silberman's diatribe, contained in his dissent in a libel case, amounted to a withering, frontal assault on the 1964 Supreme Court decision that set the framework for modern defamation law —New York Times v. Sullivan." Later, he added it was a "blistering judicial rant." Let's guess Politico never used words like this for Ruth Bader Ginsburg's opinions.

Even worse, Silberman praised Clarence Thomas: "Justice Thomas has already persuasively demonstrated that New York Times was a policy-driven decision masquerading as constitutional law." Making a libel plaintiff have to prove "actual malice" in abusing the truth is almost insurmountable. You'd have to probe their inner thoughts, or maybe find them now in their social media posts.

[...]

"The increased power of the press is so dangerous today because we are very close to one-party control of these institutions," the judge declared. "Although the bias against the Republican Party—not just controversial individuals—is rather shocking today, this is not new; it is a long-term, secular trend going back at least to the '70s….One-party control of the press and media is a threat to a viable democracy."

He said "The New York Times and The Washington Post, are virtually Democratic Party broadsheets. And the news section of The Wall Street Journal leans in the same direction. The orientation of these three papers is followed by The Associated Press and most large papers across the country (such as the Los Angeles Times, Miami Herald, and Boston Globe). Nearly all television—network and cable—is a Democratic Party trumpet. Even the government-supported National Public Radio follows along."
Since Silberman adhered so closely to the MRC's talking points, Graham isn't going to tell you the logical holes in his argument -- and another eason Silberman's opinion may not be all that trustworthy. TPM writes:
In his doomsday narrative of left-wing media authoritarianism, Silberman briefly concedes that Fox News, generally the most-watched cable channel in the country, is a "notable exception." However, he fails to acknowledge that in addition to Fox News, conservative radio spawned the likes of Rush Limbaugh and Sean Hannity, who saturated the airwaves for decades.

The fact that then-President Donald Trump regularly used Fox News as both a bullhorn and a policy adviser (Fox host Tucker Carlson was one of his top media consultants) for four years also went unmentioned in the judge's tirade.

Silberman, you may recall, was the judge who got utterly whipped by a Black clerk last year when he tried to argue that the Civil War wasn't about slavery as he was railing against the growing push to remove tributes to Confederate soldiers from government property.
But for ideologues and true believers like Graham, the truth doesn't matter -- only the narrative does.
Posted by Terry K. at 9:24 PM EDT