Has The MRC Stopped Defending Steven Crowder?
Topic: Media Research Center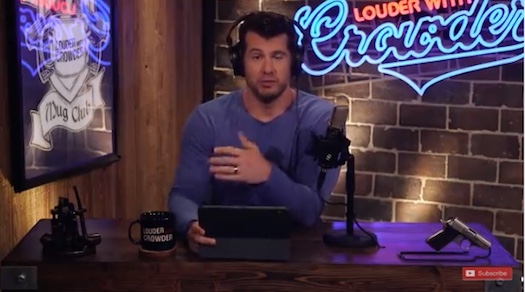 Has right-wing video person Steven Crowder finally become too offensive for the Media Research Center to defend?
In 2019, you'll recall, the MRC rushed to Crowder's defense, complaining that YouTube de-monetized him for making alleged jokes about gay journalist Carlos Maza that were, in reality, barely disguised homophobia. When Crowder was fully reinstated at YouTube a few months later, the MRC again portrayed Crowder as a comedian who was unfairly targeted and hid the full extent of his homophobia.
On Feb. 25, Heather Moon complained that "comedian Steven Crowder" was listed by an Anti-Defamation League study as among right-wingers who serve as "gateways" to exremist content. The MRC rushed to again help Crowder play victim in a March 10 item by Alexander Hall:
Conservative commentator Steven Crowder said he has been silenced on Twitter for unknown reasons, and proclaimed to TheBlaze: "Behold, the modern 'public square!'"

"Twitter has suspended the account of popular BlazeTV host Steven Crowder for at least one week without explanation," TheBlaze reported March 9. Louder with Crowder host Steven Crowder reportedly explained: "No idea why Twitter locked me out, as in the allotted category (wherein they would include said information) was left blank."

Crowder "confirmed" to the MRC what TheBlaze reported, and explained, "As far as I understand it, I've been suspended THREE times as the countdown has kept getting longer. And they have yet to send ANY reason for the suspension. At all."
Had Hall bothered to do even a modicum of research instead of accepting Crowder's claimed victimhood at face value -- letting him prattle on at length about how "video content of his from previous years was rapidly gaining notoriety among liberal Twitter users" and how his "core concern was that Big Tech platforms will purge users on what they posted in the past, rather than in the present" -- he might have learned that a more proximate issue might have been responsible for Crowder's Twitter outage: On the same day he claimed his Twitter account was suspended, his YouTube show (which he presumably promotes on his Twitter feed) featured him using a racial slur to describe Meghan Markle.
That's the last instance of Crowder-defending we've seen at the MRC. That's good -- if unusual, given how thge MRC loves to double down in defense of extremists -- because Crowder became even more offensive after that:
His March 16 show used offensive racial stereotypes to portray black farmers to mock relief they were receiving from President Biden's coronavirus relief plan after decades of discrimination.It was offensive enough that YouTube pulled the video. His co-hosts cranked up the racism the next day.
After a six-day absence from his show, Crowder returned on March 22 to use another racial slur, followed by homophobic slurs two days later. This prompted YouTube to suspend and demonitize one of Crowder's accounts; his attempt to evade the suspension by using another channel of his faiiled. Crowder was reduced to being offensive on BlazeTV, which apparently had no problem with it.
Apparently homophobia was cool with the MRC, but blatant racism is its line in the sand. Congratulations, MRC, for finally demonstrating you have at least some standards. However, we expect it to flip-flop and defend Crowder again once returns to homophobia, a la Marjorie Taylor Greene.
Posted by Terry K. at 8:27 PM EDT