CNS Effectively Censors Gaetz Scandal
Topic: CNSNews.com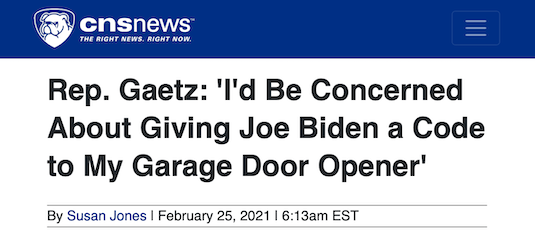 CNSNews.com loved to quote Republican Rep. Matt Gaetz, because he's so eminently quotable in pushing right-wing talking points. Some examples over the past year:
That last article appeared on March 25, a few days before it was revealed that the Department of Justice is investigating whether Gaetz had an inappropriate relationship with a 17-year-old giril and whether it constituted sex trafficking.CNS was initially quick to defend Gaetz, with a March 31 article by Susan Jones that uncritically recounted Gaetz defending himself in an appearance on Tucker Carlson's Fox News show:
Rep. Matt Gaetz (R-Fla.), an outspoken conservative and a supporter of President Donald Trump, says he's being smeared by The New York Times and extorted by a former Justice Department official over what he calls a false allegation of sex trafficking.

"It is a horrible allegation and it is a lie," Gaetz told Fox News's Tucker Carlson Tuesday night:
But Jones buried the odd exchange in which Gaetz brought up a dinner he attended with Carlson and "a friend of mine, you'll remember her, and she was actually threatened by the F.B.I., told that if she wouldn't cop to the fact that somehow I was involved in some pay-for-play scheme, that she could face trouble."
And that's the last time Gaetz has been mentioned in a CNS article. That means CNS readers don't know that the DOJ official has denied Gaetz's extortion claims, about reports that Gaetz showed photos of nude women he claims to have slept with, or that the House Ethics Committed has launched an investigation into Gaetz.
It appears that if it's bad news about a conservative, it's not news at CNS.
Posted by Terry K. at 4:01 PM EDT