Malicious: MRC Cheers Tent Falling On Reporter
Topic: Media Research Center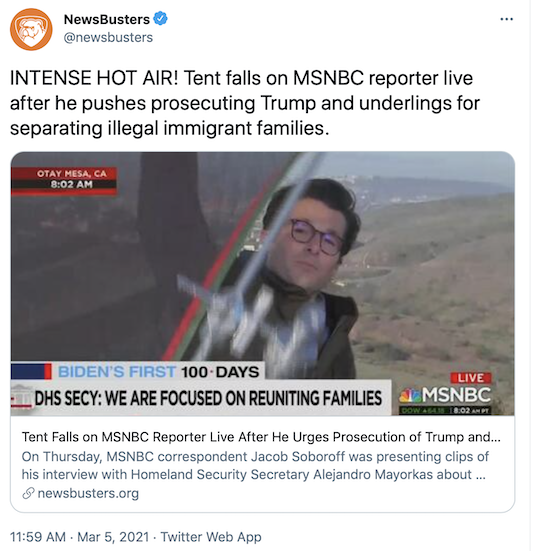 The Media Research Center not only criticizes any journalist who fails to spout its right-wing dogma -- it actively hates them and wishes them harm. So much so, in fact, that it cheers when they get hurt. Brad Wilmouth demonstrated how in a March 5 item:
On Thursday, MSNBC correspondent Jacob Soboroff was presenting clips of his interview with Homeland Security Secretary Alejandro Mayorkas about Trump immigration policy separating illegal immigrant parents and children when his report was apparently so full of hot air that the tent his production team was using blew over on live television, forcing him to catch it with his hands.

The live TV blooper occurred after a clip was shown of Soboroff badgering Mayorkas about the "potential criminality of the Trump administration."

After running a clip of the Mayorkas interview, Soboroff was seen live on air at 11:03 a.m.. Before he could say anything, his tent fell on him, leading him to catch it and comment on the goof-up and again talk up prosecution of Trump officials:
The MRC's glee that Soboroff could have been injured during this incident was more cleari n the Twitter post promoting Wilmouth's item, which chortled: "INTENSE HOT AIR! Tent falls on MSNBC reporter live after he pushes prosecuting Trump and underlings for separating illegal immigrant families."
The MRC doesn't do "media research" -- it promotes hatred of journalists (that aren't employed by Fox News).
Posted by Terry K. at 8:34 PM EDT
Updated: Tuesday, April 6, 2021 8:35 PM EDT