Again! CNS Dings Biden For 'Gaffes,' Ignores Trump's Lies
Topic: CNSNews.com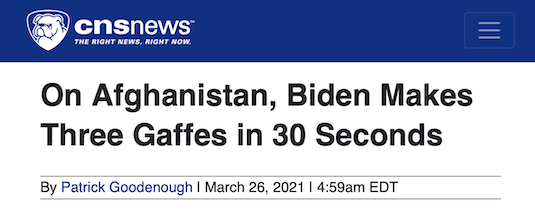 Last month, we caught CNS reporter Patrick Goodenough nitpicking a speech by President Biden, complaining that he made "3 errors in 12 seconds" -- but gave Donald Trump a pass on numerous falsehoods a few days later at his CPAC speech, instead gushing over how "fired-up" he was. Well, he did it again. On March 26, Goodenough wrote an article headlined "On Afghanistan, Biden Makes Three Gaffes in 30 Seconds":
During his first press conference on Thursday, President Biden within the space of 30 seconds made three gaffes when responding to a question about Afghanistan.

He got a name wrong; he implicitly questioned the status of an elected U.S. ally who is Afghanistan's head of state and commander-in-chief of the armed forces; and he corrected himself on "if" troops leave to "when we leave."

When asked about one of the three gaffes, Biden reversed himself. The other two raised no comment.
But on the same day, Trump called into Fox News and, well, this happened:
Former President Donald Trump on Thursday attempted to whitewash the history of the January 6 Capitol riot by pushing the false suggestion that his supporters were "hugging and kissing" police officers and posed "zero threat" despite widespread violence, injuries to law enforcement officers and five deaths.

It's an outrageous attempt by Trump to rewrite the history of the insurrection, which he stoked by repeatedly and falsely claiming the 2020 election was stolen from him. There is no evidence of widespread fraud, but Trump and many of his conservative allies in the media and on Capitol Hill have continued to push the "big lie" regardless.

Calling into Fox News on Thursday night, Trump was asked if he was concerned about the US Capitol's beefed up security, including razor-wire fencing, which he derided as "disgraceful" and a "political maneuver."

"It was zero threat, right from the start, it was zero threat. Look, they went in, they shouldn't have done it. Some of them went in, and they are hugging and kissing the police and the guards, you know, they had great relationships," Trump told Fox News' Laura Ingraham. "A lot of the people were waved in, and then they walked in and they walked out."

Trump's latest whitewash attempt comes after the world has been presented with reams of video evidence of the violence that broke out on January 6, criminal charges filed against participants, law enforcement officials testimony, police officers' accounts of the violence, and lawmakers' descriptions of the fear they experienced that day.
Goodenough didn't whitewash this -- he ignored it completely, as did every other CNS employee. There's no mention of Trumps Fox News appearance that we could find at CNS.
It's clear that CNS is holding Biden to a different standard that it holds Trump. It's as if there's a pronounced ideological bias there.
Posted by Terry K. at 12:44 AM EDT
Updated: Wednesday, April 14, 2021 4:31 PM EDT