MRC Shilling Again For Right-Wing Filmmaker's New Hatchet Job
Topic: Media Research Center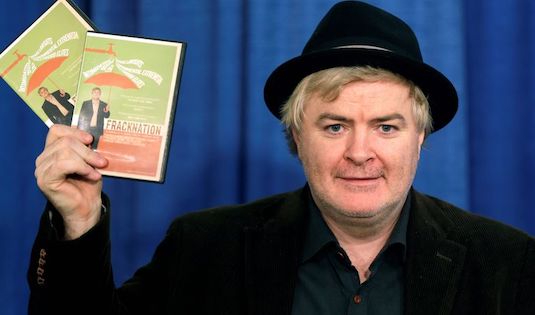 We've documented how the Media Reserarch Center was snugly in bed with right-wing filmmaker Phelim McAleer through the years of fund-raising and production for his film about rogue abortion doctor Kermit Gosnell -- while steadfastly refusing to disclose what sort of deals McAleer cut with the MRC for all that promotion. Now, it appears the MRC's Gabriel Hays is unmaking the bed to settle in with McAleer on his new hatchet job - er, film project:
If you missed the news story about Joe Biden's son having a laptop with evidence that he gave access to his then-VP father to foreign countries in exchange for a windfall of cash, it's not your fault. Big Tech took it off the internet before you noticed. Still an upcoming movie from Gosnell creators gives viewers a second chance to learn about allegations of Biden family corruption.

A press release put out by filmmakers Phelim McAleer and Ann McElhinney on March 16 announced their next political film project titled, My Son Hunter: The Family Comes First. It described the project, stating, "Hunter Biden's wild life and corrupt business dealings are slated to get the Hollywood treatment in the newly announced feature film 'My Son Hunter.' The movie will be a biopic of Hunter Biden chronicling his elitist party lifestyle, dodgy business dealings, family drama, and corruption."

Sounds like a crime drama for the ages.

[...]

McAleer commented on this Biden/big tech/media alliance, saying, "The media and big tech covered up the bombshell report by The New York Post that showed the depth of corruption in the Biden family. The truth deserves to be told and it needs to be seen by as many people as possible."

That's the intention behind McElhinney and McAleer's new movie, to get as many people as possible to see the truth about Joe and Hunter in the form of an "entertaining and enjoyable movie." McAleer added that the medium is "the best way to tell the story of the Biden family's corruption and to ensure as many people are educated about this as possible."
Of course, Hays must shill for McAleer, since he wouldn't have it any other way: "For their new movie, McElhinney and McAleer announced their goal of crowdfunding $2.5 million within 60 days. The press release claimed that, 'if successful it will be the largest crowdfunding ask for a film in history.'"
We don't recall McAleer being similarly concerned about the corruption in the Trump family. Perhaps he could explain why sometime.
Posted by Terry K. at 1:55 PM EDT