MRC Lies Again About What Harris Said About Vaccines Before The Election
Topic: Media Research Center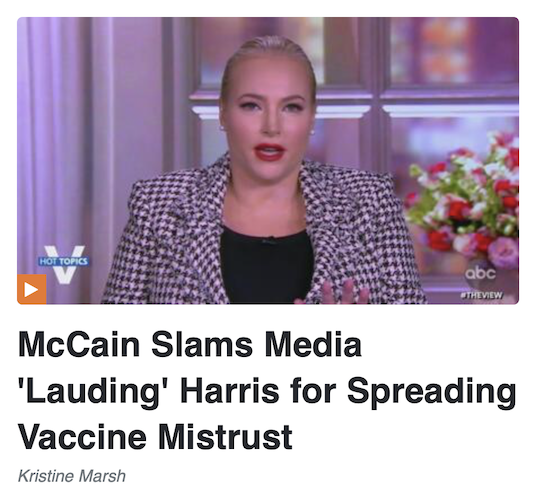 The Media Reserarch Center can't stop lying about Vice President Kamala Harris and what she said about the coronavirus vaccine before the election.
IN a March 16 post, Kristine Marsh ranted that "Kamala Harris and other Democrats spent months leading up to the November election spreading dangerous vaccine misinformation with the media's help," adding:
In September, the big three networks touted Kamala Harris sowing doubt about the safety of a "Trump vaccine." The journalists at ABC, NBC and CBS failed to hold the VP candidate accountable for trying to ruin public trust over the important vaccine effort.

In fact, the networks aided Democrats' message you couldn't trust a vaccine with Trump in office. On September 17's GMA, ABC's White House correspondent Cecilia Vega was aghast at the President's correct prediction we'd have a vaccine by end of the year: "Now people in this country are forced to choose whether to believe the President or the nation's top health experts!" Vega vented. She also touted Joe Biden politicizing the vaccine while Good Morning America co-anchor George Stephanopoulos claimed Trump was "pressuring" the CDC to come up with an unsafe vaccine in record time: "Can Americans still trust what they're hearing from the CDC?" he asked.
Marsh is being dishonest. As we've documented, Trump was cynically using the promise of a vaccine as a re-election ploy, an given Trump indisputable record of telling lies, there was ample reason to doubt him. Marsh also censored what Harris said at the time: that she "would not trust Donald Trump" given his reputation for muzzling health officials who spoke publicly about inconvenient facts, and that she would require "a credible source of information that talks about the efficacy and the reliability" of a vaccine.
In other words, Marsh is lying when she claimed Harris and other Democrats spread "dangerous vaccine misinformation"; they pointed out that Fauci and other actual medical experts were the ones to be trusted on a vaccine, not Trump.
Further: If Harris and Democrats really did spread "dangerous vaccine misinformation," why is the group most likely to reject getting a vaccine white Republicans? Were they listening to Harris? Unlikely.
Harris was telling the truth; Marsh is not. That makes the MRC look like partisan hacks.
Posted by Terry K. at 4:44 PM EDT