CNS Unemployment Coverage Distortion Watch
Topic: CNSNews.com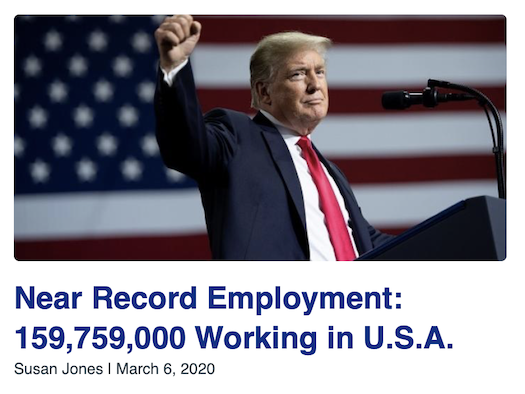 Pro-Trump rah-rah was the order of the day for CNSNews.com's reporting on February's employment numbers. Susan Jones' lead article carried the headline "Near Record Employment: 159,759,000 Working in U.S.A.," and Jones was in full gushing mode:
Forty-five thousand more people were employed in February than in January, bringing the total number employed -- 158,759,000-- to the second highest level in the nation's history.

The only time more people have been working in the United States was in December 2019, when there were 158,803,000 employed.

The number of employed has broken 25 records so far in the Trump presidency.
This was joined by the usual sidebars: Craig Bannister cheering a record number of Hispanics employed and editor in chief Terry Jeffrey touting how manufacturing jobs "have now increased by 519,000 since President Donald Trump took office."
This was joined, however, by a March 6 op-ed by Kay Hymowitz of the right-wing Manhattan Institute weirdly complaining that women are too well educated and make too much money to settle for a typical man, thus leading to "family decline":
Women have made enormous inroads in education and the labor market over the past few decades. They are now the majority of college graduates and are more likely than men to have earned a postgraduate degree.

The story for men, particularly low skilled men, is one of decline. Alarming numbers of male prime aged workers are simply MIA from the labor force. This gender gap goes a long way toward explaining family decline among the less educated. Women continue to want to marry men who earn at least as much as they do.

Women without a college degree and minority women are increasingly finding that impossible, forcing them to choose between single motherhood or abstaining from having children altogether.
Hymowitz seems to be implicitly blaming women for this situation; in her congressional testimony to which she links as support for this article, she called for "a re-affirmation of the importance of fathers and male contributions to the household" and complained that "Society has come to accept single motherhood; in fact, it is the norm in many disadvantaged communities," which she claimed "has had unintended effect of telling boys and men that their contributions to family life and the household economy are of no great consequence."
Posted by Terry K. at 1:47 AM EDT