MRC's Fondacaro Lies About Challenge To House Seat
Topic: Media Research Center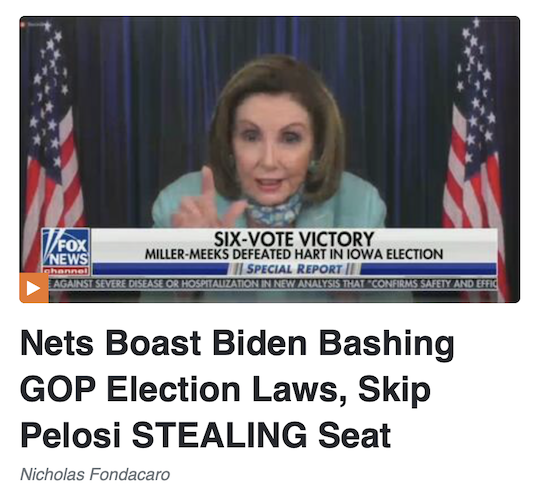 Serial liar Nicholas Fondacaro of the Media Research Center has struck again. He ranted in a March 22 post:
While the liberal broadcast networks had spent plenty of time pushing lies about the Republican Party purportedly trying to roll back voting rights and bring back Jim Crow laws, they didn't care that House Democrats were cooking up a plot to steal a House seat from the Iowa Republican woman who rightfully won the district back in November.

As Fox News Channel anchor Bret Baier noted during Monday's Special Report, "Republicans are calling it an obvious power play to pad the speaker's slim majority."

But instead of reporting on Speaker Nancy Pelosi's (D-CA) machinations and calling an assault on our democracy, ABC's World News Tonight talked about the weather, CBS Evening News showed drone footage of an erupting volcano, and NBC Nightly News deflected blame away from President Biden for the rising price in gas.

[...]

Aside from the lies against Republicans on voting rights, the double standard was clear. If the roles were reversed in the House or Minority Leader Mitch McConnell (R-KY) tried something similar in the Senate, the media and the rest of the left world be apoplectic.

Apparently, stealing a seat from a duly elected representative wasn't an attack on our democracy.
Fondacaro is lying when he pushes the right-wing narrative that this is an attempt to "steal" a House seat. As actual reporters pointed out -- as opposed to the partisan activists at Fox News that Fondacaro cited -- Hart was taking part in an existing procedure in the House that has been used dozens of times since the 1930s:
Rita Hart, the Democratic candidate in Iowa, filed a claim under the Federal Contested Elections Act, which brought the case to the House Administration Committee. The law is the main avenue through which candidates can lodge a challenge, and came about in 1969. It brings the claim to the committee and ultimately the House, which is empowered by Article 1 Section 5 of the Constitution to judge the "elections and returns" of its own members.

"The committee has handled things correctly so far," said Jeff Jenkins, provost professor of public policy, political science and law at the University of Southern California. "Hart didn't do anything wrong by filing a claim."
But Fondacaro is more interested in pushing a narrative than telling the truth, so he returned on March 25 to complain that TV network news didn't "inform their viewers about how Speaker Nancy Pelosi (D-CA) was trying to steal a Republican House seat in Iowa; a victory lawfully certified by the state." He again cited biased Fox News reporters declaring that "Pelosi was defending her move to disenfranchise Iowa voters and supplant Miller-Meeks with her preferred politician, Democrat Rita Hart" and that "Pelosi's plot seemed on the road to failure." He laughably -- and falsely -- screeched that Pelosi was engaged in an "attack on democracy."
Hart ultimately dropped her challenge, which gave Fondacaro space to gloat and further falsely malign her legitimate effort:
For weeks, House Speaker Nancy Pelosi (D-CA) and Democratic candidate Rita Hart had been plotting to steal Iowa's second congressional district from Republican Congresswoman Mariannette Miller-Meeks, who rightfully won the election back in 2020. But on Wednesday, Hart called it quits on her dubious efforts and NewsBusters couldn't help but notice that the likes of ABC, CBS, and NBC refused to give airtime to the scheme at any point from start to finish.

As NewsBusters previously reported, the evening newscasts from these networks refused to cover the Democratic plot to undo the results of an election certified by a bipartisan panel of Iowa election officials.

Later, they also refused to tell viewers about how Pelosi had claimed it was her "right" to erroneously ignore the will of the voters in the district and supplant Miller-Meeks with a Democrat of her choosing, in this case, Hart. And at the time, Iowa Republican leaders were calling it a "coup."
Of course, he again cited biased Fox News reporting to support his false framing.And of course, Fondacaro never explained how Hart trying to get 22 votes counted that were originally disqualified due to a clerical error anounted to "stealing an election."
But, again, Fondacaro is being paid to peddle right-wing narratives, not to tell the truth.
Posted by Terry K. at 9:30 PM EDT