CNS Still Thinks Kevin Sorbo's Bogus Claims Must Be Amplified
Topic: CNSNews.com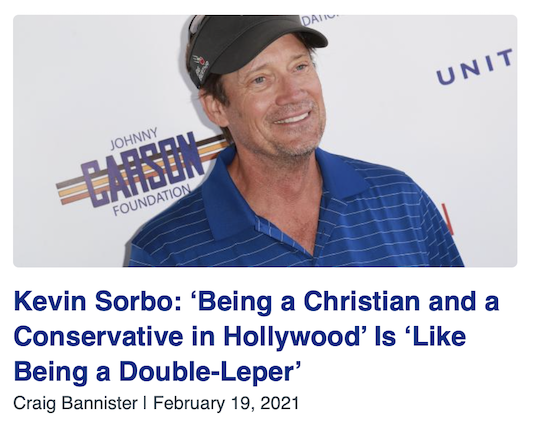 For some reason, CNSNews.com writer Craig Bannister just loves enshrining the utterings of far-right one-time "Hercules" actor Kevin Sorbo. In February, for instance, Bannister gave him space to spew a painfully unfunny "Jen Psaki impression," with things like "Yea I'll have to circle back on that but in the meantime did you know we have a pansexual accountant?"
After Facebook banned Sorbo later that month, Bannister let him complain that "being a Christian and a conservative in Hollywood, that's kind of like being a double-leper" -- but censored the fact that Facebook banned him because he spread misinformation about coronavirus, with Bannister falsely claiming instead that Facebook "banned him as part of liberals' Cancel Culture censorship movement."
In a March 1 article, Bannister let Sorbo's wife, Sam -- an activist against public eduction -- falsely and hyperbolically claim that "Kevin just got digitally assassinated by Facebook" for posting his conservative views -- again censoring the fact that he was removed for spreading lies. Ironically, this was part of a radio appearance in which the Sorbos asserted that leftists, in Bannister's words, "debase and degrade language in order to render it useless."
Bannister then used a March 18 article to amplify a bogus meme Sorbo pushed:
Were former President Donald Trump's "mean tweets really that bad?" Actor and conservative Filmmaker Kevin Sorbo asked on Thursday, sharing a photo of a gas station charging more than five dollars a gallon.

While Trump was criticized for harsh tweets as president, before his account was permanently closed by Twitter, Pres. Joe Biden is currently being criticized for his anti-energy policies, such as canceling the Keystone XL oil and gas pipeline project.

"Were the mean tweets really that bad?" Sorbo tweeted, embedding a viral photo, shared on social by Donald Trump, Jr., of a gas station with prices ranging from $5.55 for regular to $5.75 for supreme, and $5.85 for diesel.
But as Bannister eventually admitted, the photo was of a gas station that regularly charges exorbitant prices and the actual average price of fuel in the U.S. is nowhere near that high. Of course, that's not in the headline -- Bannister doesn't repost Sorbo in order to correct him, after all.
Promoting bogus claims is not how a "news" organization builds credibility.
Posted by Terry K. at 12:33 AM EDT