MRC Drools Over Proposed Social Media Platforms From Trump, Lindell
Topic: Media Research Center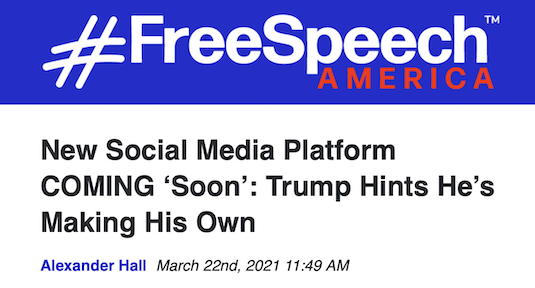 The Media Research Center is quite excited about its favorite right-wingers potentially starting their own social-media platforms. Alexander Hall took a certain ex-president's promotional blather seriously in a Feb. 19 post:
Former President Donald Trump has reportedly been in talks with donors about his much anticipated return to social media.

After years of censorship, and with politicians refusing to solve it, Trump may once again take action where others have failed. "Former President Donald Trump has told friends he has hundreds of millions of dollars in backing for a new social media venture that would give him an online presence and protect conservatives from being shut down online," the Washington Examiner reported on Thursday. Two sources reportedly familiar with the matter said investors included Silicon Valley leaders spurred by concerns regarding censorship and "cancel culture."
On March 10, Kayla Sargent promoted another right-winger's would-be platform:
Many dream of a world without the constant barrage of Big Tech censorship. Soon, a new censorship-free platform may not be confined to their dreams while resting on a MyPillow.

MyPillow CEO Mike Lindell announced plans to launch his own social media platform because "we've got to get our voices back," he said during an interview with Charlie Kirk on The Charlie Kirk Show.
Sargent went on to play the victim card for Lindell:
Lindell has been an avid supporter of former President Donald Trump, and an outspoken critic of the 2020 election. Twitter banned Lindell from its platform in January for "repeated violations of our Civic Integrity Policy," a Twitter spokesperson told MRC TechWatch.

YouTube and Vimeo censored Lindell's docu-movie Absolute Proof, which called the results of the 2020 presidential election into question. Dominion Voting Systems has also filed a lawsuit against Lindell for defamation per se and "deceptive trade practices." Facebook has allowed Lindell to post the video, but added a label to the bottom of the post that said: "Partly False Information. The same information was checked in another post by independent fact-checkers."
Sargent failed to acknowledge that if Lindell and other right-wingers want to live in "a world without the constant barrage of Big Tech censorship," they should stop telling lies and respect the terms of service of social media platforms. She also didn't mention, as the MRC failed to do the last time they painted Lindell a a victim, that "Absolute Proof" is absolutely filled with lies -- so much so that when Lindell bought time on One America News to repeatedly air the video, OAN added a massive disclaimer stating that it doesn't endorse the video's claims in general or regarding specific people and companies like Dominion and Smartmatic, which have not been shy about suing right-wingers who lie about them.The disclaimer also added that the video is "not intended to be taken or interpreted by the viewer as established fact."
Hall returned to gush even more over Trump's less-than-concrete talk about a social media platform:
Former President Donald Trump has declared institutional independence by starting his own platform! Both Trump and his adviser Jason Miller have given hints about Trump's upcoming platform in recent days.

Trump's grand re-entry to social media will be with his own platform, and it may occur within the next few months. "I'm doing things having to do with putting our own platform out there that you'll be hearing about soon," Trump explained to Fox News contributor Lisa Boothe in the debut episode of her "The Truth" podcast on March 22. Trump's adviser Jason Miller also made an announcement during a Fox News interview that delivered on Trump's hints: "I do think that we're gonna see President Trump returning to social media, in probably about two or three months here, with his own platform."

Miller elaborated that the new Trump platform will be a game changer for the internet:
This is all blather without any substance behind it, but Hall doesn't care -- he's eating it up. So much so, in fact, that he spread a lie: "Multiple Big Tech platforms cracked down on Trump's account following then-president Trump's call for peace amid political unrest in D.C., which saw rioters storm the U.S. Capitol building Jan. 6." As Hall very well knows, the "call for peace" had nothing to do with platforms suspending Trump -- it was the weeks and months of spreading lies about the presidential election he lost, which instigated that "political unrest in D.C." better known as the Capitol riot, that prompted the platforms to act.
Spreading such blatant lies does not make anyone want to take the MRC seriously as a "media research" organization.
Posted by Terry K. at 10:23 PM EDT
Updated: Thursday, April 29, 2021 7:23 PM EDT