CNS Unemployment Coverage Distortion Watch
Topic: CNSNews.com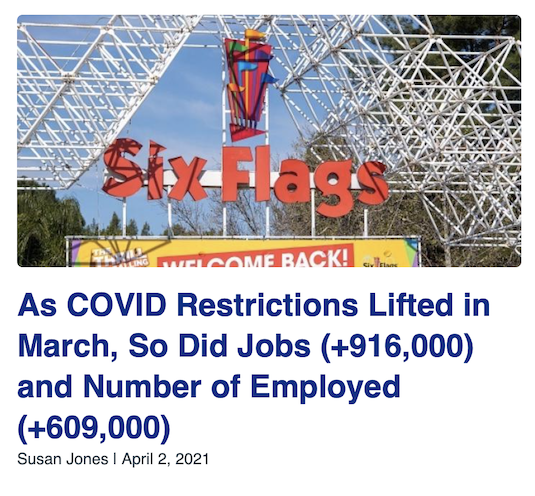 CNSNews.com is continuing its pattern of declining to give President Biden any credit for job gains. Susan Jones stuck strictly to the number in her lead story:
As more cities and states reopen, the number of jobs created and the number of employed Americans continues to substantially increase.

In March, according to the Bureau of Labor Statistics, the economy added a whopping 916,000 jobs, compared with +468,000 (revised) in February.

At the same time, the number of unemployed Americans also dropped by 262,000 to 9,710,000, pushing the unemployment rate down two-tenths of a point to 6.0 percent. That's less than half of the record 14.8 percent unemployment rate set a year ago April.
But where CNS often illustrated stories about monthly job improvements under the Trump administration with pictures of Donald Trump, Biden got no such treatment here; Jones' article was illustrated with a photo of an amusement park preparing to reopen.
There were the usual sidebars of Craig Bannister noting increased Hispanic employment and Terry Jeffrey noting increased government employment. That article included a picture of Biden along with other Democrats, as if working in government was perpetrating a solely Democratic evil.
Posted by Terry K. at 3:32 PM EDT
Updated: Wednesday, April 14, 2021 3:33 PM EDT