CNS Touted -- Then Deleted -- Extremist GOP Rep Mocking Her Critics
Topic: CNSNews.com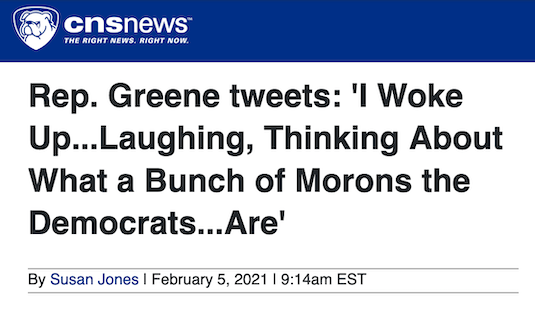 In our overview of how CNSNews.com reacted to the mass condemnation of the extreme views of Republican Rep. Marjorie Taylor Greene that CNS had been hiding from its readers for months, we overlooked an article -- but there's a good reason.
In a Feb. 5 article written after the House had stripped Greene of her committee assignments for her extreme-right views, Susan Jones was letting her have a little victory lap, -- under the headline "Rep. Greene tweets: 'I Woke Up...Laughing, Thinking About What a Bunch of Morons the Democrats...Are'" -- while also trying to enforce the new narrative of CNS' owner, the Media Research Center, that Greene's views don't reflect those of the Republican Party:
Stripped of her two committee assignments, Rep. Marjorie Taylor Greene nevertheless tweeted on Friday that she woke up "laughing" about Democrat "morons" who are giving someone like her "free" publicity.

On Thursday, the House voted 230-199 -- with eleven Republicans joining Democrats -- to remove Greene from both the Education and Budget Committees, after Republican leaders declined to do so.

Greene's critics, including many Republicans, have condemned her espousal and apparent endorsement of kooky conspiracy theories and implied violence. Democrats and their media allies have painted Greene as representative of the entire Republican Party.

On Friday, Greene tweeted: "I woke up early this morning literally laughing thinking about what a bunch of morons the Democrats (+11) are for giving some one like me free time. In this Democrat tyrannical government, Conservative Republicans have no say on committees anyway."

Speaking on the House floor during Thursday's debate, House Republican leader Kevin McCarthy said the Democrat resolution to punish Greene "sets a dangerous new standard that will only deepen divisions within this House."

McCarthy said Democrats are declaring that "the majority has veto power over the minority members' selections for committee." He called it an unprecedented abuse of power by Democrats who are "blinded by partisanship and politics."

McCarthy said Rep. Greene's past comments and posts as private citizen do not represent the values of the Republican Party: "As a Republican, as a conservative, s an American, I condemned those views unequivocally. I condemned them when they first surfaced, and I condemn them today."

McCarthy said Greene has apologized for her past comments and acknowledged that House members have a responsibility to hold themselves to a "higher standard."

"I will hold her to her word and her actions going forward," he said.
Well apparently someone at CNS thought better of this article, because it was deleted sometime after its publication. The original link goes to an empty page, and the article is no longer listed in Jones' article archive. CNS has not explained why it deleted Jones' article; perhaps it decided after the fact that it was a bad look to cheer on Greene's sick burn of the Dems when it's trying to distance itself and the entire conservative movement from her.
But because the internet is forever, Jones' article remains for perpetuity at the Internet Archive.
Posted by Terry K. at 12:15 AM EST
Updated: Thursday, February 25, 2021 12:17 AM EST