MRC Psaki-Bashing, Doocy-Fluffing Watch
Topic: Media Research Center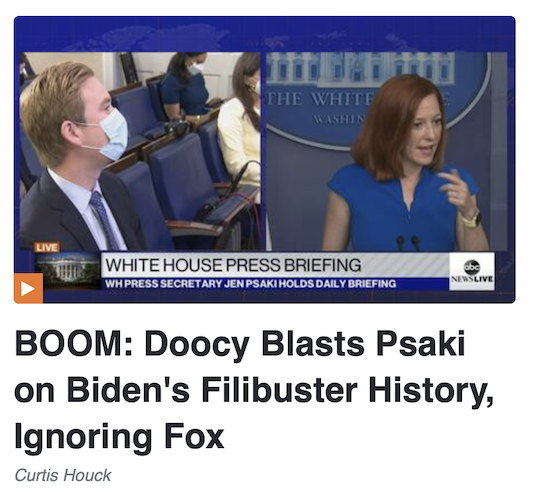 The main mission of the Media Research Center these days is to trashing the Biden administration and defend Fox News. That's why Curtis Houck writes his biased reviews of White House press briefings the way he does -- Jen Psaki will always be trashed, Peter Doocy is always lionized. Thus, the March 22 review headlined "WH's Jen Psaki Gets Destroyed by Doocy, Colleagues on Biden's Border Crisis":
Continuing her streak of awful, no good, very bad days at the White House podium, Press Secretary Jen Psaki crashed and burned on Monday as she tried to explain away the Biden administration's crisis at the border, responding to probing questions from Fox's Peter Doocy and a whole cast of colleagues with bald-faced lies about the border being secure and how Facebook and Instagram ads will help deter illegal immigration.
Houck went on to gush about how his man-crunch Doocy "produced some receipts" and was "upping the ante," while Psakimerely "stuck to her talking points."
On March 26, Houck elevated Doocy's whining he didn't to ask President Biden a question at his press conference thte day before:
A day after he was left off the pre-selected list of reporters called on at President Biden's first press conference, Fox News Channel White House correspondent Peter Doocy came locked and loaded for Friday's regular briefing, blasting Press Secretary Jen Psaki over Biden's past support for the Senate filibuster, the administration's misleading claims about the border, and the administration's clear insulating of the President from Fox.

Doocy cut right to the chase as the fourth reporter called on, noting that Biden has "said he thinks the filibuster is a legacy of the Jim Crow era" and then asking whether he thought so in 2005:

[...]

Skipping ahead to the last exchange, Doocy noted that Fox has realized going back to "the end of the campaign" that "any time that the President has an event where he was given a list of reporters to call on, Fox is the only member of the five network TV pool that has never been on the list in front of the President."

Doocy dropped the hammer with this question: "And I'm just curious, if that is an official administration policy."
Houck didn't have a Doocy to drool over on March 29, so he lashed out at the "liberal media" he's well-paid to despise and spewed hate at a public health official trying to impart facts to the American people:
Hours after CDC Director Dr. Michelle Walensky was on the verge of tears warning of an "impending doom" of increasing coronavirus cases, Associated Press correspondent and MSNBC contributor Jonathan Lemire took her marching orders Monday afternoon to President Biden and White House Press Secretary Jen Psaki and pressing them to urge states to halt reopening efforts.

For a liberal media and public health community that's realizing their death grip on the American people was slipping away, it seemed as though they've found their new narrative to keep an increasingly vaccinated country from returning to pre-pandemic life.
Again: Houck gets paid to hate.
Posted by Terry K. at 9:05 PM EDT
Updated: Thursday, April 29, 2021 9:15 PM EDT