MRC Gets The Vapors Over AOC Talking About Capitol Riot
Topic: Media Research Center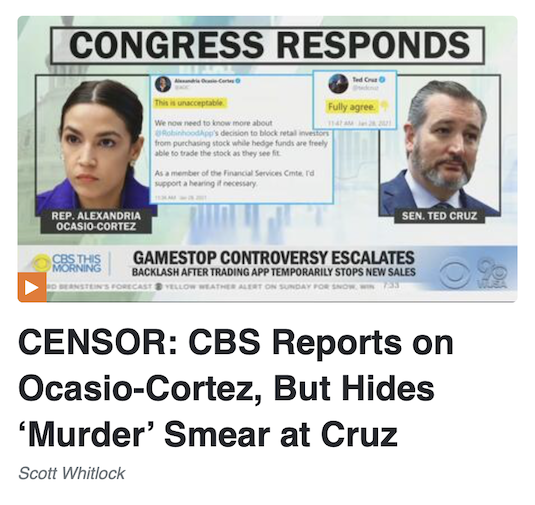 When Democratic Rep. Alexandria Ocasio-Cortez argued that Republican Sen. Ted Cruz "almost had me murdered" through his embrace of President Trump's election fraud conspiracy theories and attempts to overturn the election that that played a major role in inciting the Capitol riot, the Media Research Center went on the attack.
"AOC Lies! Ted Cruz 'Almost Had Me Murdered' While Twitter Yawns" screamed the headline of Corinne Weaver's Jan. 28 post, further ranting, "Twitter censored 668 tweets from former President Donald Trump before banning his account, claiming his tweets were inaccurate and that some were a 'risk of violence.' But when Rep. Alexandria Ocasio-Cortez (D-NY) falsely accused a U.S. Senator of attempted murder, Twitter did nothing at all." Weaver delcared AOC's claim to be false while censoring any mention of the bogus conspiracy theories Cruz embraced.
Thus, the MRC's dishonest narrative was established:
When Ocasio-Cortez told her story in an Instagram of hiding in her office from rioters, the MRC attacked her for that too by nitpicking her story. Nicholas Fondacaro huffed on Feb. 2:
You could feel the unity surging on Tuesday's CBS Evening News as the network gave a boost to the vile smears from Democratic Congresswoman Alexandria Ocasio-Cortez (NY), suggesting the Republican Party was just a bunch of domestic and sexual abusers. On top of that, there was also incredibly lazy reporting from congressional correspondent Kris Van Cleave, who failed to tell viewers that the person banging on Ocasio-Cortez's door during the Capitol riot was a Capitol Police officer.

[...]

According to his report, a simple bathroom door was all that stood between the mob of insurrectionists and the Congresswoman. But he left out a key detail: the person banging on her door was a Capitol Police officer looking to protect her.
But in the next paragraph, Fondacaro added the context that undermined his attack, while accusing the reporter of leaving context out: 'Now, the officer allegedly didn't announce who he was. So, it would be understandable for Ocasio-Cortez to fear who was outside. But we now know who it was, thus CBS should have included it in the report to give the full context."
But this dishonesty became part of the already dishonest MRC narrative. Alexa Moutevelis accused AOC of giving a "performance" in her video, as if she was lying about what happened to her, then sneered that it was too long:
It's only Wednesday and the Left's favorite rising socialist star has already gotten rave reviews for her Monday night Instagram Live performance telling the tale of the January 6 Capitol riot from the likes of Variety and Rolling Stone.

The Instagram Live presentation on her account was a 90-minute stemwinder that saw Rep. Alexandria Ocasio-Cortez (D-NY) stare into the camera and claim to have been sexually assaulted in the past as a way to explain her current "trauma," compare Republican reaction to the riot to "the same tactics of abusers," and dramatically recount being terrified she "was going to die" when a man pounding on her office doors came looking for her (he turned out to be Capitol police).
Moutevelis even baselessly suggested that AOC was lying about a sexual assault that happened to her that was mentioned in her video: "It's almost as if, by refusing to deal with any claims other than the unprovable sexual assault, they don't have to face all the holes in the rest of her story."
Whitlock complained that CBS "played the congresswoman's Instagram recounting of the attack, failing to mention that the person who came to find her was a police officer, not a member of the mob. " He also tried to revive the MRC's manufactured outrage over Tara Reade's never-proven accusation of sexual misconduct against Joe Biden, saying of AOC that "Of course anyone recounting such trauma must be painful, but Reade's retelling didn't get similar sympathy."
Tim Graham, meanwhile, got mad at Snopes pointing out that right-wingers like him were engaging in "bad-faith smears" portraying AOC as a liar because the office she was hiding in was in a separate building from the Capitol, which the rioters never made it to (though Graham offered no evidence that AOC knew it at the time). He went on to whine, "Decrying a 'right-wing disinformation machine' guilty of 'minimizing' AOC's January 6 story isn't "fact-checking." It's left-wing blogging."
Graham followed that up with a column that did more whining that AOC wasn't being nitpicked by the media the way he was doing it: "Everyone should understand the fear and trauma of the riot. But is everything based on emotion here? Did anyone contemplate asking AOC for more details? Apparently it's rude after a traumatic event to check. No one used the phrase 'claimed without evidence.'"
Graham continued to play his dishonest "fact-check the fact-checkers" game in a Feb. 6 post: "Snopes went first among liberal "fact checkers" in defending Alexandria Ocasio-Cortez against conservative critics of her Instagram Live testimony about the trauma of the Capitol riot, but other aggressive defenders followed, at AP and PolitiFact and The Washington Post. Only CNN decided to flag AOC for saying some unproven things."
But it was time to push the narrative again. Kayla sargent declared that AOC "apparently expects her supporters to cover for her lying." Sargent later ranted that AOC "lied and falsely accused Senator Ted Cruz (R-TX) of "trying to get [her] killed", and has now refused to apologize for her lie. Twitter still has not taken any action against the tweet or against Ocasio-Cortez. ... Apparently, the left can accuse a sitting U.S. senator of attempted murder with no repercussions." In neither post did Sargent prove that AOC "lied."
Graham couldn't give up his AOC obsession, devoting his weekly podcast to "explor[ing] the depths of the "Ocasio-Cortex" and how the socialist Congresswoman from New York has told an engrossing tale of how frightened she was during the Capitol riot on January 6," whining yet again that "The "independent fact-checkers" as a pack surrounded AOC in a defensive crouch, denouncing 'bad-faith smears' by conservative websites like RedState and the Daily Wire."

Posted by Terry K. at 8:45 PM EST
Updated: Wednesday, February 17, 2021 8:58 PM EST