MRC's Bozell Hypocritically Goes Godwin Again
Topic: Media Research Center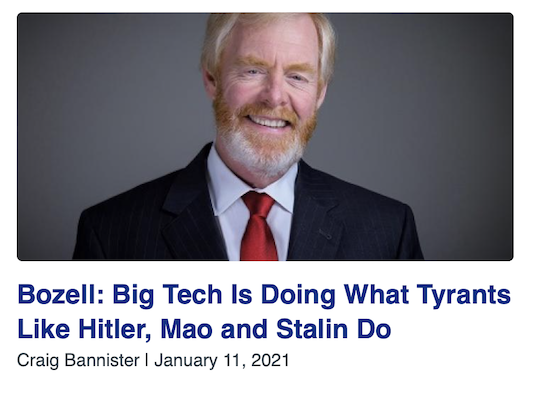 If this sounds familiar, it is.
The Media Research Center's Lindsey Kornick wrote in a Jan. 10 post:
Republicans and Democrats can both agree that the events on the U.S. Capitol last Wednesday were disgraceful at best. Unfortunately, leftists have the terrible habit of dividing people even in the worst circumstances. Case in point, former GOP governator turned leftist celebrity Arnold Schwarzenegger compares the events to Kristallnacht, calling Trump the "worst president ever."

On January 10, Schwarzenegger took to Twitter to post a seven-minute video commenting on the storming of the U.S. Capitol. While he of course condemned the actions on January 6, he went even further to the point of comparing the event to Germany and Austria's Kristallnacht or The Night of Broken Glass.

[...]

While the actions on Wednesday were horrible, they do not represent a rising Nazi force. Unlike both Kristallnacht or even the BLM riots for that matter, these actions were widely condemned without any racial or Semitic targets. Considering Schwarzenegger references his father being present during Kristallnacht, one should think he would be more tactful in comparing them.
Kornick will not take this same indignant tone with her boss, even though he not only did the same exact thing but tripled down on it, as described in a Jan. 11 article at his own media outlet, CNSNews.com:
"Stalin censored speech. So did Mao. So did Hitler. It's what tyrants do," Media Research Pres. Center Brent Bozell says, reacting to recent censorship tactics employed by social media giants like Amazon and Twitter.

Twitter CEO Jack Dorsey and his "power-mad Marxist employees have lost their minds," Bozell tweeted Friday after the social media platform permanently banned the president of the United States:

".@Jack and the rest of his power-mad Marxist employees have lost their minds. They insanely think they are more important than the President. Instead of hurting Trump, they are reminding everyone that Big Tech needs to be crushed."

[...]

"Big tech is doing what we were all told was a crazy conspiracy [theory], canceling conservatives. Now they're after @parler_app. Don't let them win! Join me there @brentbozell," Bozell tweeted, adding that Big Tech is using the same tactics employed by infamous dictators:

"Stalin censored speech. So did Mao. So did Hitler. It's what tyrants do."
Actually, Bozell's demand that all media outlets must publish anything Trump or any conservative says no matter how offensive -- and those outlets are then forbidden to hold them responsible for their words -- is much closer to what Mao, Hitler and tyrants do.
So Bozell gets to go Godwin without consequences, while those Bozell and the MRC consider their enemies are attacked for doing the same exact thing. Indeed, Fox News host Jeanine Pirro ridiculously huffed that businesses who exercise their right to free associaiton -- in the form of ceasing to do business with right-wing website Parler because its users help plan last week's Capitol riot and issued death threats against numerous people -- is just like Kristallnacht ... and the MRC said nothing.
This is the second time this has happened in recent months: the MRC denounces someone making a Nazi reference while Bozell goes Godwin. That double standard never dies, it seems.
Posted by Terry K. at 9:22 PM EST
Updated: Friday, January 15, 2021 10:58 PM EST