WND Spreads False Rumor Linking Boxer's Death To COVID Vaccine
Topic: WorldNetDaily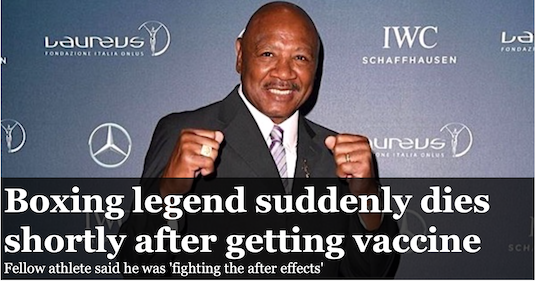 David Kupelian keeps insisting that WorldNetDaily cares only about "truth." So why does it spend so much editorial space spreading highly dubious rumors? Joe Kovacs wrote in a March 14 article:
oxing legend Marvelous Marvin Hagler died at the age of 66 Saturday night, and an online battle has erupted over reports his death was a direct result of getting "the vaccine."

Hours before the undisputed middleweight champion died, his fellow boxing great Thomas "Hit Man" Hearns noted Hagler was "fighting the after effects of the vaccine" before the former undisputed middleweight ultimately passed away.

Hearns' full message on Instagram stated: "A real true warrior Pray for the king and his family.. he's in ICU fighting the after effects of the vaccine! He'll be just fine but we could use the positive energy and Prayer for his Full Recovery !"

[...]

A post on Hagler's website stated: "We are very sad to report that Marvelous Marvin Hagler died on March 13 of natural causes near his home in New Hampshire. He was a champion until the end. His family asks for privacy at this time of sorrow."

Social media erupted, with one commenter stating: "Im proper gutted!! the Great Marvin Hagler dies after taking the vaccine! Please do your own research before making a decision on putting something in your body that has not been tested properly & we r being used as the guinea pigs & not told the #Truth about #vaccine."
That's right -- Kovacs is taking the word of a random Twitter user and a fellow former boxer with no apparent detailed knowledge of Hagler's medical history as evidence that the vaccine killed Hagler.
Kovacs' story was accompanied by a reader poll asking, "Did Marvin Hagler die as a direct result of being vaccinated?" Unsurprisingly given WND's readership, 88 percent voted yes.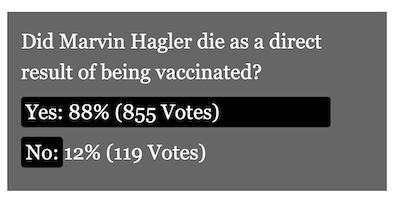 What you're not going to learn from Kovacs or anyone else at WND is that the story is false. Hagler's widow
shot down the rumors
about the vaccine causing his death and confirmed that he died of natural causes, adding, "My baby left in peace with his [usual] smile and now is not the time to talk nonsense."
But irresponsible nonsense is what WND traffics in. Don't expect a correction.
Posted by Terry K. at 12:14 AM EDT