CNS Loved Trump's 'Covfefe' -- But Bashes Omar's 'Obvious Grammar Mistake'
Topic: CNSNews.com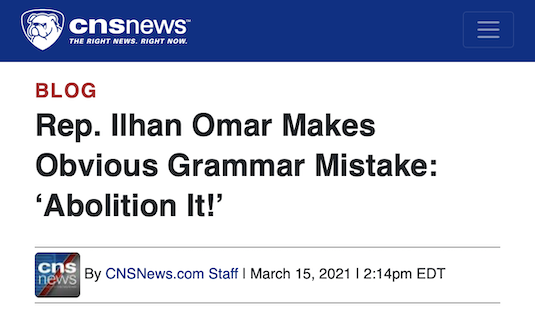 Call it a tale of two typos.
Back in May 2017, CNSNews.com reporter Susan Jones got quite the charge out of Donald Trump's "covfefe" tweet. "With six words – only five that make sense – President Donald Trump's midnight tweet took the Internet by storm early Wednesday morning, even though no one is sure what he meant," she wrote, adding: "Before the tweet was removed, Twitter users had fun with 'covfefe,' some joking it's Russian for "I resign"; and others suggesting it may be the nuclear code."
But on March 15, an anonymous CNS writer felt the need to devote an entire article to highlighting a typo in a tweet by Democratic Rep. Ilhan Omar:
Rep. Ilhan Omar made an obvious mistake in basic English grammar in a tweet she sent out on Monday afternoon.

She used the noun "abolition," when she should have used the verb "abolish."

Shortly after she sent the tweet with the grammatical error, Omar tweeted out a correction—apparently lamenting that Twitter did not allow her to correct her mistaken tweet.
The anonymous CNS reporter then felt the need to mock Omar's education, which it didn't do to Trump:
Omar earned a bachelor's degree in Political Science and International Studies from North Dakota State University. In a question-and-answer sheet posted on the North Dakota State University website, Omar was asked: "How did NDSU prepare you?" She responded: "NDSU provided an open and tolerant learning environment in which I was able to form my own independent and informed opinions with the help of a great faculty, student body and curriculum."
CNS has previously given disproportionately negative attention to Omar before, hyping controversial remarks she made while downplaying similarly controversial remarks by a Republican congressman. It even put an inflammatory, negative headline on an article that was surprisingly fair to Omar.
Posted by Terry K. at 1:15 AM EDT