Fake News At WND, Capitol Riot Edition
WorldNetDaily is clinging to the notion that the Capitol riot was instigated by Antifa -- not far-right pro-Trump extremists -- and it's (mostly) not letting the truth get in the way.
By Terry Krepel
Posted 4/12/2021
---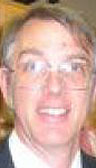 Bob Unruh
After the right-wing, pro-Trump Capitol riot, one of the first things WorldNetDaily columnists did was push the claim that it was instigated by Antifa agitators, not any actual Trump supporters:

The "news" side of WND also pushed this as well. A Jan. 6 article by Bob Unruh uncritically repeated that "Social media was filled with charges that the protesters were Antifa operatives disguised as Trump supporters." A Jan. 7 article by Unruh repeating Republican Rep. Paul Gosar's claim that the Capitol riot had "all the hallmarks of Antifa provocation," adding in a tweet, "Look at the folks breaking the glass. All Antifa – your little buddies." He also cited Republican Rep. Mo Brooks tweeting that "Congressman told me he was warned on TUESDAY by Capitol Police officer that intelligence suggest fascist ANTIFA was going to try to infiltrate the Trump rally by dressing like Trump supporters" as well as disgraced ex-New York City police chief Bernard Kerik tweeting, "President @realDonaldTrump supporters pulling Antifa terrorists away from building. There's plenty of these videos." Unruh waited until the third-to-last paragraph of his 23-paragraph item to note someone who said the rioters didn't look like Antifa.

Art Moore declared in a Jan. 12 article:
An analysis of videos of the death of Air Force veteran Ashli Babbitt at the U.S. Capitol indicates Antifa activists provoked the fatal gunshot from a police officer.

Japanese investigator Misako Ganaha explained in a video interview with Epoch Times reporter Joshua Philipp on his "Crossroads" program that she analyzed two lengthy videos, affording two different angles of the incident near the House chamber.

[...]

Ganaha, who lives in Okinawa, Japan, said it was clear to her that the two men were not Trump supporters.

She said she's seen the same Marxist "agitate and divide" tactics employed by leftists in her home country.

Clearly there were Trump supporters inside the Capitol building, she said, but "the ones who were leading the crowd, or agitating the crowd, were not Trump supporters," she said.
The problem, of course, is that numerous fact-checks have found no evidence of Antifa involvement in the riot -- WND's columnists are lying.
While their lies have been allowed to stand, Moore's article was a different matter. His article now begins with a lengthy correction:
CORRECTED Jan. 13, 2021 at 6:00 p.m. EST: Based on fact checks by AFP and Lead Stories, this story has been corrected to include comments from the FBI indicating there was "no credible intelligence suggesting Antifa involvement in Wednesday's criminal activity" at the U.S. Capitol on Jan. 6, 2021. The text of the story has been amended to remove the "Antifa" name. The original headline of "Analysis concludes Antifa provoked shooting of Ashli Babbitt at Capitol" has been amended to: "Video analysis suggests 'agitators' provoked shooting of Ashli Babbitt at Capitol." The original subheadline has been changed from "The ones who were agitating the crowd were not Trump supporters" to: "FBI maintains: 'No credible intelligence suggesting Antifa involvement.'"
Related articles on ConWebWatch:
Ouch. Nevertheless, Moore wrote an article the same day the correction was appended to his earlier one that claimed, "Another key question is whether or not there were facilitators inside the Capitol and outside it who instigated or enabled the attack to be carried out. Videos shows officers and other people removing barriers and opening doors to let the crowd in and people smashing windows as Trump supporters boo and demand they stop, yelling 'Antifa.'" This was followed by embedded tweets from someone claiming without evidence that Antifa was instigating the violence. Moore did not repeat the statement from his correction that the FBI cites no credible intelligence suggesting Antifa involvement.

While WND is showing occasional concern these days about the accuracy of the information on its website that it has rarely exhibited in its 23-year history, Moore is unlikely to find his job at WND to be in danger. Then again, who else would work for WND, given its well-earned reputation for fake news and conspiracy theories?
Hyping (the only) arrested leftist
When an purported leftist was arrested for his alleged role in the riot, WND was quick to hype it, diving deeply into the story in an apparent attempt to revive its old, debunked narrative. First up was an anonymously written Jan. 14 article:
The FBI has arrested anarchist leader John Sullivan of Utah for participating in and committing various crimes during the riot at the U.S. Capitol Jan. 6.

He was quoted as saying, "We got to rip Trump from office" and "It's time for a revolution."

Videos showed Sullivan agitating the crowd and encouraging violence.
That was followed the next day with an article by Moore declaring that this proved Antifa provoked the riot:
The FBI's arrest of a "revolutionary" activist Thursday night has shattered the conventional narrative that the loose-knit, "anti-fascist" movement known as Antifa had nothing to do with the violence that shut down the U.S. Capitol and prompted the second impeachment of President Trump.

John Earle Sullivan of Sandy, Utah, insists he's not a "member" of Antifa or Black Lives Matter, but the activists in black bloc who were behind the estimated $2 billion in damage over the summer don't carry membership cards. In quieter moments, many explain their aim is to provoke a revolution and replace the American republic with an anarchist system in which there is no state.

[...]

Prior to Sullivan's arrest, the prominent "fact-checker" site published by the Poynter Institute, Politifact, declared there's "no evidence that the crowd was infiltrated or led by antifa activists in disguise, and specific individuals held up online as antifa activists have turned out to be Trump supporters."

In fact, BLM activists in Utah, where Sullivan is from, have said Sullivan was kicked out of the group for extreme behavior and suspected far-right ties. Observers of Sullivan at the riot have said they did not see Sullivan inciting violence.
Moore then labored to distance the rioters from purportedly real Trump supporters:
Along with anti-Trump extremists, the FBI has arrested extremists who have declared support for the president.

Among them is Jacob Chansley, the QAnon conspiracy theorist who was photographed wearing horns as he stood at the desk of Vice President Mike Pence in the Senate chamber.

However, Chansley doesn't fit the profile of a typical Trump supporter. He has explained he's a practioner of shamanism, and Reuters reported a detention memo by Justice Department lawyers in Arizona said he "has spoken openly about his belief that he is an alien, a higher being, and he is here on Earth to ascend to another reality."

Among the mob at the Capitol were members of a "group" that has drawn the attention of the FBI ahead of the inauguration called the Boogaloo Bois.

The Atlantic reported the FBI warned earlier that boogaloos could launch attacks in state capitols this Sunday.

But the center-left magazine said "the boogaloos don't appear interested in fighting for Donald Trump — they tend to despise him, mostly because they think he panders to the police."
Despite Moore's suggestion that multiple "anti-Trump extremists" have been arrested, Sullivan appears to have been the only clear non-right-winger arrested in connection to the riot.
Moore is also being disingenuous by dismissing the "QAnon Shaman" arrested at the riot as not a true Trump supporter because "he's a practioner of shamanism." He's deliberately overlooking the QAnon part of the description, which is very much a pro-Trump movement.
Still pushing a bogus story
WND writers have continued to cling to this narrative despite the utter lack of proof to support it outside of Sullivan's arrest. Sean Harshey ranted in his March 3 WND column:
We have reached a remarkable place in our national condition where it is so accepted that the current political narrative is equal to "truth," whatever that narrative may be at the moment, that important people are perfectly comfortable telling obvious lies and relaxing in the comfort they will not be held accountable.

This week in testimony before Congress, FBI Director Christopher Wray claimed the bureau had no evidence of antifa or "fake Trump supporters" participating in the Jan. 6, 2021, protests on Capitol Hill. This in spite of the fact the FBI actually investigated and arrested now former-antifa activist John Sullivan, who posted publicly on social media of his plans to infiltrate the crowd of Trump supporters and taking pictures and video of himself disguised in MAGA paraphernalia while screaming obscenities trying to encourage the crowd to go into the Capitol building. Americans can see the pictures, watch the video and read the indictment for themselves, but the political narrative is the opposite of reality. And so, we are told – under oath – that the "truth" is the opposite of what we see with our own eyes.
Harshey is misquoting Wray. In the link Harshey supplied, Wray makes it clear that Antifa was not responsible, did not organize, and did not play a "significant role" in the riot:
"Do you have any evidence that the capital attack was organized by, quote, 'fake Trump protesters?'" Senate Judiciary Committee Chairman Dick Durbin asked Wray.

"We have not seen evidence of that," Wray responded.

[...]

Democratic Sen. Patrick Leahy of Vermont asked whether Wray had seen any evidence of antifa or left-wing groups playing a "significant role" in the attack.

"We're equal opportunity and looking for a violent extremism of any — of any ideology. We have not, to date, seen any evidence of anarchist, violent extremists or people subscribing to antifa in connection with [Jan. 6]," Wray said. "That doesn't mean we're not looking, and we'll continue to look. But at the moment, we have not seen that."
Again, Sullivan appears to be the only non-right-winger to have been arrested, and it's since become even more clear that violent far-right groups like the Oath Keepers and the Proud Boys played key roles in the riot.
But don't expect WND to report that truth to its readers -- it believes its readers want that false narrative.
The latest from