WND Falsely Suggests HuffPost Layoffs Tied To 'Deplatforming' Calls
Topic: WorldNetDaily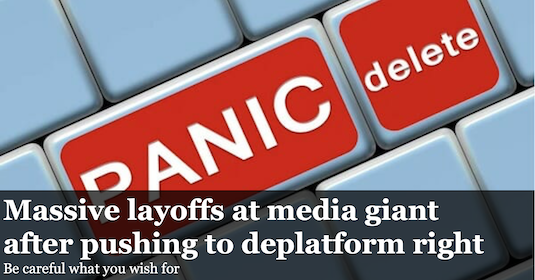 Back in January, WorldNetDaily spread fake news by falsely trying to link a drop in a company's stock price to a boycott. Joe Kovacs tried something similar in a March 9 WND article, under the headline: "Massive layoffs at Huffington Post after it pushed to deplatform right":
After having pushed for the deplatforming of conservative voices, the left-leaning Huffington Post announced massive layoffs of its workforce on Tuesday – 47 U.S. writers including eight in management – and entirely shuttering its Canadian operation.

The decision was made to "fast-track the path to profitability," enabling the company to break even this year and eventually turn a profit, according to Jonah Peretti, the CEO of BuzzFeed which acquired HuffPost from Verizon Media just three weeks ago.

[...]

ome opinion writers at HuffPost have been extremely vocal against those on the political right.

Last summer, commentary writer Imran Ahmed wrote a piece indicating "Deplatforming Works," with a subtitle stating: "Some deride deplatforming as a sign of an emerging 'cancel culture' and an attack on free speech. But inaction is dangerous too."
Kovacs seemed to concede that there's no link between some HuffPost writers' calls for "deplatforming" others and the layoffs, but he stuck with that framing anyway.
Of course, Kovacs wasn't going to mention that his own employer underwent massive layoffs at the start of its current ongoing financial crisis.
Posted by Terry K. at 1:28 PM EDT