CNS' Inflammatory Headline Attacks Omar
Topic: CNSNews.com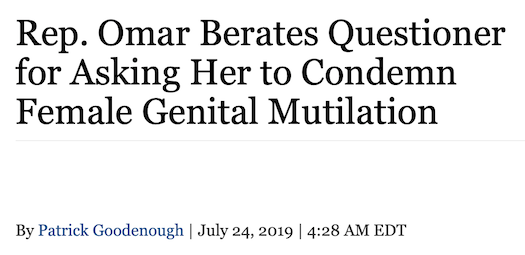 We've documented how harshly CNSNews.com treated Democratic Rep. Ilhan Omar over controversial comments she made while offering Republican Rep. Steve King a much more sympathetic treatment. Now it's giving Omar the bias-by-headline treatment it gives to other Democratic politicians.
A July 24 CNS article by Patrick Goodenough carried the headline "Rep. Omar Berates Questioner for Asking Her to Condemn Female Genital Mutilation." Conservatives love to attack Muslims for taking part in the practice even though most Muslims oppose it and is more of a cultural issue than a religious one. The headline suggests that Omar is defending the practice by being angry at the questioner.
In fact, the story itself shows the opposite. Goodenough eventually makes it clear that Omar is angry about the question because it's a stereotypical question that "as Muslim legislators we are constantly being asked to waste our time speaking to issues that other people are not asked to speak to, because the assumption exists that we somehow support" FGM. Goodenough did detail Omar's record on the issue, noting she has supported several anti-FGM measures as a member of Congress.
Goodenough noted that the questioner "drew attention to a Detroit judge's ruling last November that a 22-year-old federal law making female genital mutilation (FGM) a crime was unconstitutional. As a result, charges against nine people accused of subjecting nine young girls to FGM were dismissed." But he didn't mention, as he had in his original article on the case, that the judge wh ooverturned the law stated that FGM is "'local criminal activity' which, in keeping with longstanding tradition and our federal system of government, is for the states to regulate, not Congress." That's called federalism -- a longstanding conservative principle. (Goodenough's Media Research Center colleagues ignored that fact in attacking the decision.)
Putting a needlessly inflammatory headline on an otherwise relatively fair story harms CNS' credibility as the "news" source it claims to be.
Posted by Terry K. at 12:55 AM EDT