MRC Makes MyPillow Guy A Victim To Own The Libs
Topic: Media Research Center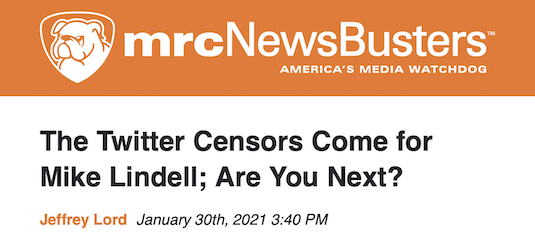 The Media Research Center's record of embracing fringe-right extremists who get banned on social media as a way to own the libs continues with its attempt to turn MyPillow buy Mike Lindell into a victim over his spreading of false election fraud conspiracies. Kayla Sargent lamented in a Jan. 26 post:
Perhaps Twitter was losing sleep over the fact that it's been a whole three days since it censored a prominent conservative.

Twitter banned MyPillow CEO Mike Lindell, making him only the latest conservative censored on the platform this month alone.

"The account you referenced has been permanently suspended due to repeated violations of our Civic Integrity Policy," a Twitter spokesperson told MRC TechWatch. However, Twitter did not respond to an inquiry about which specific tweets led to Lindell's ban. Lindell has been an avid supporter of former President Donald Trump, a fact that many media outlets despise.
Sargent is lying when she suggests that Lindell was banned merely for being a Trump supporter. In addition to Lindell's election fraud lies, Lindell has also falsely claimed that Antifa sparked the violence at the Capitol riot.
Jeffrey Lord ramped up the victimization narrative in a Jan. 30 post:
What was Mike Lindell's offense? Why, the man had the audacity --- the nerve!! --- to support former President Trump and to say what he thinks about the 2020 election results. And with Twitter going out of its way to cancel the ex-president himself, how tough is it to cancel one of his most prominent supporters?

On top of this, corporate America has piled on. Companies run by leftist executives have abruptly pulled the My Pillow products from their stores.

[...]

But it is time --- more than time --- to stand up and bring a full stop to this craziness. On Friday, Sean Hannity reported on his radio show that Lindell boycotter Bed Bath and Beyond had its stock collapse by a stunning 36% as a direct result of BBB's ostentatious boycott of My Pillow. This is not about pillows or how to take care of babies or Fox News or building presidential libraries. This is about free speech. And if this fascist cancel culture is not protested and stopped in its tracks, it will only get worse.
Actually, Hannity was lying: The drop in Bed Bath & Beyond stock that day had everything to do with it being turned into a bit player in the GameStop stock short-selling craziness and nothing to do with MyPillow.
Lord's item appeared under the provocative headline "The Twitter Censors Come for Mike Lindell; Are You Next?" Unless you're spreading repeatedly debunked lies like Lindell did, the answer is no -- not that Lord will tell you that, of course.
When Lindell's crazy video filled with bogus election fraud conspiracy theories was removed from YouTube and Vimeo, Sargent was there to paint Lindell as a victim again:
The self-proclaimed truth overlords have struck again, lest anyone raise questions about possible election fraud in the 2020 presidential election.

[...]

Lindell claimed in Absolute Proof that he had obtained "a print [of] inside of the machine of a timestamp that showed another country, other countries attacking us, hacking into our election through these machines. And it showed the votes flipped." Lindell was referencing voting machines used in the November 2020 presidential election. Dominion Voting Systems has reportedly threatened "litigation" against Lindell for accusations he has made against the company, according to The Washington Examiner.

"Per our presidential election integrity policy, we remove content uploaded after the safe harbor deadline that advances false claims that widespread fraud, errors or glitches changed the outcome of the 2020 U.S. presidential election," YouTube spokesperson Alex Joseph told The Washington Times (The Times). "We removed this video and its reuploads in accordance with this policy."

Video-sharing platform Vimeo similarly removed the documentary for allegedly "violating Vimeo's policies on posting content that claims that the 2020 presidential election was fraudulent or stolen or otherwise illegitimate," the platform told The Times.

[...]

The Times referred to Lindell as "an unwavering supporter of former President Donald Trump." In January 2021, Twitter banned Lindell from the platform "due to repeated violations of our Civic Integrity Policy," a spokesperson told MRC TechWatch. The platform also went so far as to ban the MyPillow account after Lindell used it to "circumvent his own ban," according to Forbes.
Sargent didn't mention the pertinent fact that fact-checkers found Lindell's video to be filled with lies -- so much so that when Lindell bought time on One America News to repeatedly air the video, OAN added a massive disclaimer stating that it doesn't endorse the video's claims in general or regarding specific people and companies like Dominion and Smartmatic, which have not been shy about suing right-wingers who lie about them.The disclaimer also added that the video is "not intended to be taken or interpreted by the viewer as established fact."
But telling the truth is not Sargent's job here; keeping the narrative alive is.
UPDATE: The MRC loves Lindell's victimhood. Last April, it twice touted his unproven claim that Twitter was "shadowbanning" him, gushing over the number of followers he had and his engagement rate. In June, Joseph Vazquez praised Lindell for refusing to pull MyPillow ads from the increasingly extreme and hateful content on Fox News: "In a country where corporate liberal pandering to violent mobs is the new trend in business, one CEO decided to stand on principle and go against the tide."
Posted by Terry K. at 6:14 PM EST
Updated: Friday, February 19, 2021 6:28 PM EST