MRC Concedes Trump Is A Racist
Topic: Media Research Center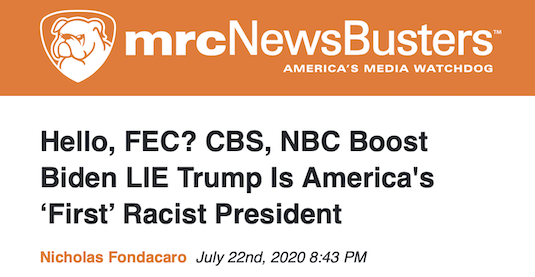 The Media Research Center's Nicholas Fondacaro ranted in a July 22 post:
After once dubiously omitting his answerto a question about his senility, CBS Evening News via political correspondent Ed O'Keefe acted as a campaign surrogate for Democratic candidate Joe Biden on Wednesday, boosting his lie that President Trump was America's "first racist president." NBC Nightly News also got in on the act. Between pushing the lie and praising a new campaign video, does this mean the networks committed federal election violations?

As CBS anchor Norah O'Donnell pivoted to the segment, she was clearly excited to be talking about Biden teaming up with former President Obama to trash Trump.
The funny thing here is that Fondacaro doesn't dispute that Trump is racist, beyond noting that one network offered "the White House's response" in the form of Trump claiming that he's "done more for black Americans than anybody with the possible exception of Abraham Lincoln. He did dispute that Trump was tghe first, huffing that "The U.S. has had racist presidents such as Andrew Jackson, Woodrow Wilson, and FDR (all of them Democrats). Boosting the claim also disproved their decades of smears against Republican presidents George W. Bush, George H.W. Bush, and Ronald Reagan."
Note that Fondaaro partakes in his usual rhetorical dishonesty -- calling something a "lie" when he can't possibly know Biden's statement was deliberate, and pretending he can read O'Donnell's mind by claiming she was "learly excited to be talking about Biden teaming up with former President Obama to trash Trump."
The next day, Kyle Drennen complained about Biden's statement in a dubiously factual "Facts Feared By The Leftist Media" piece. Like Fondacaro, he didn't dispute that Trump is racist, only that he was the first as he went on to rehash "the facts about the Democratic Party's abhorrent history of racism."
So it seems that Biden won the argument here. The MRC was so busy trying to score points against Democrats for their long-ago racism that they effectively admitted that Trump is being a racist right now. So much for the MRC being crack "media researchers."
Posted by Terry K. at 9:18 PM EDT
Updated: Monday, August 17, 2020 9:29 PM EDT