CNS Still Letting Liberty U. Interns Write About Falwell
Topic: CNSNews.com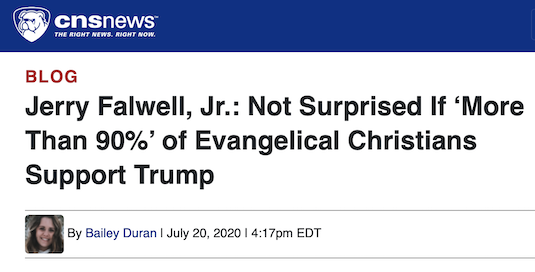 Last fall, we caught CNS letting an intern from Liberty University write an article about school president Jerry Falwell Jr. defending himself and the school from a bout of criticism -- a clear conflict of interest, even more so given Falwell's propensity for cracking down on any dissent about the school frm its students, even from the school newspaper.
Well, another CNS intern from Liberty has been giving her school even more favorable publicity. A July 20 article by Bailey Duran -- whose CNS bio describes her as "a rising senior at Liberty University" -- served up more uncritical praise of her school's president:
Liberty University President Jerry Falwell, Jr. said more Evangelical Christians are in support of President Donald Trump in 2020 than in 2016, adding, "It wouldn't surprise me if it was higher than 90 percent."

Falwell has been a vocal Trump supporter since 2016. He said that although some Evangelicals may have thought he was crazy to back Trump in 2016, he believes the Evangelical vote will be much higher this election year.
Durn even does some sucking up to Falwell about the political climate on campus:
Falwell vocally supports the president on the campus of Liberty University. Students are able to register to vote and vote in-person on campus.

In addition, Falwell urges students to educate themselves about politics, policy, and government, and he usually invites political speakers to the school's convocation, which reportedly is the largest weekly gathering of Christian young people in the world.
What Duran doesn't mention, however, is that the convocation guests are not politically diverse -- they are usually either Christian or conservative; one convocation last November featured Donald Trump Jr. and Fox News host-turned-Junior's girlfriend Kimberly Guilfoyle, where they discussed "President Trump's success in the face of media attacks, the administration's fight to support constitutional and conservative values, the pro-life movement, and support for the nation's military" and "The incivility and hostility of the political Left Liberals are rarely invited to take part.
The article did not disclose that Duran is a Liberty student.
She followed this with an Aug. 4 article about alumni from the University of Lynchburg -- located in the same city as Liberty -- "calling for the removal of Pastor Jerry Falwell, Sr.'s name from one of the school's dormitories -- which Falwell's Liberty University donated money to build – because of allegedly 'offensive' statements made by the late pastor nearly 20 years ago," as well as to "stop receiving money and gifts of any kind from Liberty." Duran quoted Falwell Jr. responding that ""We had a deal. We struck the deal and it's done. If they want to give the money back, they're welcome to give it back," as well as adding a complaint that the petition asking for a severing of ties "is open to the public to sign, not just U of L alumni."
But when Falwell Jr. posted a photo of himself on Instagram with his pants unzipped joined by a woman who wasn't his wife also with unzipped pants -- an act that was the final straw for the Liberty board of trustees, which forced him to take an indefinite leave of absence from his Liberty duties -- neither Duran nor anyone else at CNS thought this was newsworthy, even though Duran is still writing other articles for CNS, with her most recent articles published yesterday.
So it appears that Falwell Jr. gets the Trump treatment at CNS -- only good news is reported.
Posted by Terry K. at 2:09 AM EDT
Updated: Thursday, August 13, 2020 9:41 PM EDT