CNS Finally Pins Deficit Blame on Republicans -- Yet Still Finds A Way To Blame Pelosi Too
Topic: CNSNews.com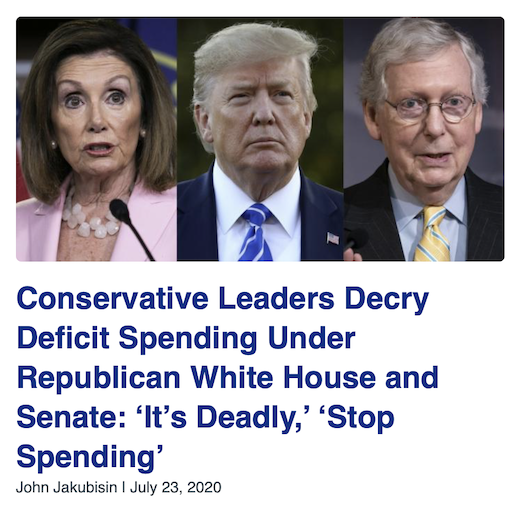 For months, CNSNews.com -- and in particular, editor in chief Terry Jeffrey -- has been trying to implicitly blame House Speaker Nancy Pelosi for this year's record federal deficit spending, even though she leads only one-half of one branch of government and all that spending was also approved by a Repubican-controlled Senate and a Republican president (which CNS somehow never identifies by name).
This reached an absurd level in a July 23 article by intern John Jakubisin, which was actually straightforward by CNS standards on the deficit issue:
Since Donald Trump took office in 2017, federal spending has soared to record highs, pushing the federal debt up more than $6.5 trillion to a total of more than $26.5 trillion. Some conservative leaders denounced this spending as "deadly" and appalling and stressed that GOP members of Congress are not serious about the debt or reducing the size of the government.

Over the last few days, CNS News sent the following question to numerous conservatives across the country: "Republicans have controlled both the White House and the Senate for the past 42 months, but during that time the federal debt has climbed more than 6 and a half trillion dollars--rising from about 19.9 trillion to $26.5 trillion. Do you believe the Republicans are serious about rolling back the federal debt? What should Congress do to roll it back?"
The article is actually fairly decent and well focused. The issue is the image that was chosen to promote it, as noted above. Look who's pictured: President Trump, Senate leader Mitch McConnell, and ... Pelosi. Who is not even mentioned in the article at all.
That's right: CNS finally calls out Republicans by name for all the deficit spending, and it still finds a way to blame Pelosi as well. Can we stop taking CNS seriously as a "news" organization now?
Posted by Terry K. at 1:14 AM EDT