MRC Is Mad Pelosi Deepfake Videos Accurately Identified As Deepfake Videos
Topic: Media Research Center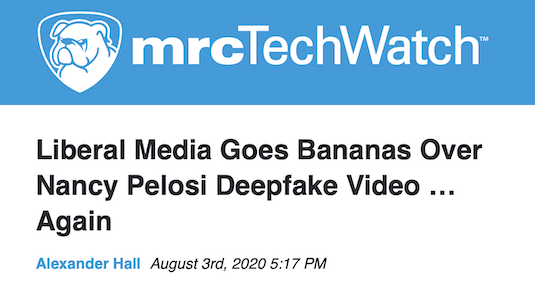 The Media Research Center loes manipulated "deepfake" videos designed to make Nancy Pelosi look bad, and they can't understand why social media operations want to label the deepfakes as deepfakes.
In May 2019, Alexander Hall and Corinne Weaver got mad that a Pelosi deepfake video was identified as such:
Journalists freaked out over a slowed-down video that made Nancy Pelosi look silly and have sparked a debate over what videos should and shouldn't be permitted online. The result was a pile-on with the media calling for speech to be silenced,

[...]

Several liberal journalists from major news sources condemned the video as a sinister deep-fake threatening American democracy. One of the most prominent tech journalists,Times contributor and Recode co-founder Kara Swisher condemned Facebook for allowing the video to spread.

"This week, unlike YouTube, Facebook decided to keep up a video deliberately and maliciously doctored to make it appear as if Speaker Nancy Pelosi was drunk or perhaps crazy," she wrote.

Other journalists, if not publishing articles criticizing the video openly loathed the free-for-all nature of social media for allowing misinformation or "hate" speech.
Hall and Weaver went on to complaine that "Liberals blamed hate speech even though the Pelosi video simply mocker [sic] her."
Hall followed up in a Aug. 3 post about the treatement of another Pelosi deepfake:
Liberal journalists are once again panicking over a video that made House Speaker Nancy Pelosi look foolish.

"Facebook's fact-checkers on Sunday labeled it as 'partly false' a video that it said was manipulated to make it appear as if House Speaker Nancy Pelosi was drunk or drugged," CNN reported August 3. The video had reportedly circulated on Facebook for a few days and has reached more than 2 million views.

The clip was shared with the caption, "This is unbelievable, she is blowed out of her mind, I bet this gets taken down!" The Hill summarized that the footage in question was a "55-second video from a May press conference in which Pelosi addresses comments President Trump made about MSNBC anchor Joe Scarborough, an outspoken critic of the president."

Notoriously liberal fact-checker, Lead Stories, fact-checked the post on Sunday, commenting that the "Tempo of the video was slowed and sections edited out to make it appear Pelosi was drunk." While it has indeed been labelled as "partly false," it has not been removed from the platform.

[...]

The August 2020 Pelosi video has also been purged from Twitter and YouTube. YouTube spokesperson Farshad Shadloo reportedly explained to CNN that the video had been removed for violating manipulated media policies.
Hall's evidence that Lead Stories is a "notoriously liberal fact-checker" was a post of his from March complaining that it fact-check a Democratic presidential debate.
Endorsing deepfakes to own the libs? That sounds like the MRC we know all too well, siding with the worst of the internet to advance "free speech," no matter how vile or fake.
Posted by Terry K. at 9:52 PM EDT