Is MRC's Fondacaro Enabling Right-Wing Vigilantes?
Topic: Media Research Center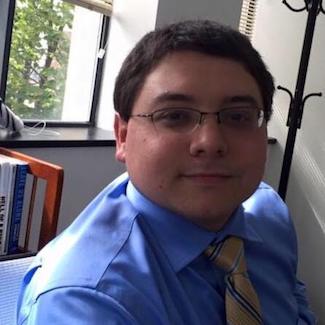 One of the shrillest and most dishonest voices at the Media Research Center belongs to "media analyst" Nicholas Fondacaro. Over the summer, he has been ranting about media coverage of racial unrest and accusing outlets who don't limit themselves to a fowarding his right-wing agenda blaming everyone but conservatives ahd President Trump of "enabling" the unrest by the "terrorists" of Antifa and Black Lives Matter. This culminated in a July 24 column written not for the MRC but for the Daily Caller -- yes, the Tucker Carlson-founded operation that loves to hire white nationalists -- that summarized his narrative. He began by ranting:
With Portland and Seattle being inundated with waves of chaos and violence at the hands of extremist leftists Antifa and Black Lives Matter, the silence from the liberal media is deafening. Despite nightly clashes in both cities (and murders in Seattle's CHOP zone), there was nary a word from the cable and broadcast networks. But this is by design. Seeing as how the media spent years covering up, downplaying and even normalizing their base's radicalism and the resulting violence.

Sadly, such behavior was entirely predictable after the press spent the 2016 general election blatantly suggesting one of the candidates would be the new Adolf Hitler and his supporters are modern-day Klansmen. And thus, a movement to "resist" was born.
Fondacaro then comnplained that one media outlet had on "Antifa apologist Mark Bray, allowing Bray to romanticize the terrorist group's violent history, ignore their ties to communism and promote violence as a legitimate form of political dissent," emphasizing how "Bray was publicly disavowed by Dartmouth, where he was a lecturer at the time."
In fact, that disavowal came after a right-wing website distorted Bray's views on antifa -- he's an academic who has argued that violent protest can be appropriate response to violent actors on the right, like white supremacists and neo-Nazis -- and other Dartmouth instructors objected to the disavowal because Bray was not given a chance to make his case to the university beforehand. Bray recedived death threats afterward; we don't recally Fondacaro speaking out against that.
Meanwhile, one can arguing that Fondacaro is helping to enable violent terrorism on his end of the political scale.
When Trump-supporting teenager Kyle Rittenhouse shot three people in altercations in Kenosha, Wis., killing two of them, Fondacarto rushed to his defense based on incomplete video of the incidents, despite the fact investigations into them are far from complete and no official conclusions have been reached.
In an Aug. 26 post, Fondacaro huffed that "the viewers of ABC, CBS, and NBC were treated to lies and misinformation"in their coverage. But instead of identifying what "lies" were told, Fondacaro insisted that "Video evidence from multiple angles show 17-year-old Kyle Rittenhouse running into a parking lot as a violent rioter chased after him and threw something at him. As the assailant got closer, Rittenhouse turned and fired his rifle. The 17-year-old was then chased down the street as a violent mob attacked him. He fell to the ground and was beaten with a skateboard by one assailant and another brandished a handgun at him. Again Rittenhouse defended himself with his rifle."
Fondacaro refused to concede that his bias-influenced narrative is not the only possible interpretation of what was captured on those videos. Another interpretation is that people were chasing Rittenhouse because he shot a guy, then shot two of the people who were trying to stop him. Nevertheless, he arrogantly continued to push his narrative:
The next day, Fondacaro argued that one of Rittenhouse's victims deserved to die because, according to another right-wing website, "He has a criminal history that includes charges of battery & repeat domestic abuse" and was hitting Rittenhouse with a skateboard when he was shot. Fondacaro didn't consider that the victim might have been a little angry because he had just witnessed Rittehnouse shoot and kill someone.Fondacaro also justified thte shooting of another Rittenhouse victim because he "has a long rap sheet whcih included weapons charges."
Despite cheering the shooting of Rittenhouse's victims, he complained in another post that CNN's Jake Tapper "appeared to call for Rittenhouse to be assaulted" and that he pointed out that Rittenhouse was "a Trump supporter."
With such lionizing of a shooter and callous disregard for the lives of his victims, it could be argued that Fondacaro is enabling right-wing vigilantes to be violent against those whose views they oppose. He'll never admit that, of course -- he's too wedded to the right-wing pro-Trump agenda to admit any fault in his thinking.
Posted by Terry K. at 11:53 PM EDT
Updated: Monday, August 31, 2020 9:15 AM EDT