CNS' Coverage Of 4 Impeachment Legal Experts Ignored 3 Of Them
Topic: CNSNews.com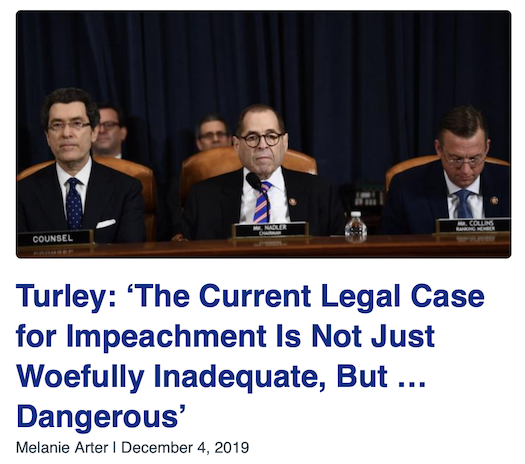 CNSNews.com editor in chief Terry Jeffrey spent his Dec. 11 column complaining that Democrats aren't interested in finding the whole truth about "what Trump was trying to do with the Ukraine":
If the House Democrats were intent on getting firsthand testimony of what Trump was trying to do with the Ukraine, they would pursue testimony from White House acting chief of staff Mick Mulvaney, former national security adviser John Bolton and Trump's personal attorney Rudy Giuliani.

But they are not.

Professor Jonathan Turley of The George Washington University Law School last week presented the House Judiciary Committee with a powerful argument against impeachment.

He does not support Trump but thinks what the House is doing is wrong.

"First, this is a case without a clear criminal act and would be the first such case in history if the House proceeds without further evidence," he said in written testimony.

"As I have stressed, it is possible to establish a case for impeachment based on a non-criminal allegation of abuse of power," Turley testified. "The problem is that this is an exceptionally narrow impeachment resting on the thinnest possible evidentiary record."

"In the current case, the record is facially insufficient," Turley said. "The problem is not simply that the record does not contain direct evidence of the president stating a quid pro quo, as Chairman Schiff suggested. The problem is that the House has not bothered to subpoena the key witnesses who would have such direct knowledge. This alone sets a dangerous precedent."
Strange that Jeffrey cites only Turley here -- or maybe not so much. In covering the Dec. 4 hearing in which legal experts testified about the issues involving impeachment, CNS complaetely ignored the testimony of the three experts chosen by Democrats. It did, hjwever, devote two articles to the arguments of Turley, the expert chosen by Republicans:
Not only did CNS ignore the testimony of the Democrats' chosen witnesses, CNS' Susan Jones tried to baselessly cast aspersions on their qualifications. In one article, Jones dismissed them as "three liberal witnesses, billed as constitutional and legal experts." By contrast, Turley was repeatedly and uncritically described with full credentials as a "George Washington University Law School professor" who, as Jones highlighted in another article, was "not a Trump supporter."
The only article CNS did about the hearing that featured a Democrat in the headline had nothing to do with the hearing's content at all or anything said at it by a Democrat or one of the Democrats' witnesses; the piece by Melanie Arter featured how "Rep. Al Green (D-Texas) took to the House floor Wednesday to complain that 'not one person of color' is represented among the constitutional scholars testifying at the House Judiciary Committee's impeachment inquiry hearing."
The fact that Jeffrey's column quoted only the one expert who supports his preconceived notions about impeachment of a Republican president is further proof he's falling down in his duty as a self-proclaimed journalist to report the truth.
With such biased, incomplete reporting, it appears that Jeffrey and CNS are the folks who, as Jeffrey's headline stated, "don't want to know the truth." And they falsely present themselves as journalistswho claim to be interested in the truth -- remember, CNS' mission statement claims that it "endeavors to fairly present all legitimate sides of a story," and once again it couldn't be bothered to do so here.
Posted by Terry K. at 12:36 AM EST
Updated: Tuesday, December 17, 2019 9:01 AM EST