MRC Melts Down When Truth Is Told About Herman Cain And Coronavirus
Topic: Media Research Center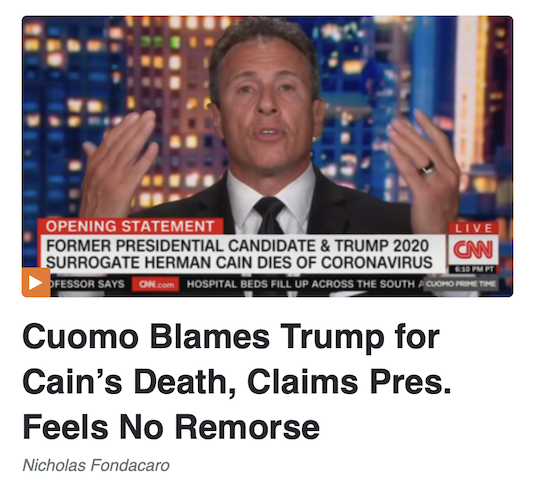 When right-wing activist Herman Cain died July 30 from coronavirus, there was one truth the Media Research Center didn't want to hear: Cain was not a fan of wearing masks, and he attended President Trump's sparsely attended rally in Tulsa in June, where most participants didn't wear masks -- which likely contributed to a surge in new cases in the city shortly after the rally.
Brent Baker posted a remembrance of Cain, including a video of him "present[ing] 'funny clips' at the Media Research Center's 20th anniversary gala," and Joseph Vazquez rehashed a Fox Business tribute to Cain, telling readers at the end to "Share this story on social media in honor of the memory of the MRC's friend Herman Cain." But as the sad truth about Cain's death became clear, the MRC turned into Trump-defending rage-bots, attacking anyone who acknowledged that truth.
Gabriel Hays ranted that "Radical lefties couldn't just wish Mr. Cain a peaceful passing, they had to lecture him beyond the grave about how his death due to coronavirus was something he could have avoided by not listening to Trump's "misinformation" about the virus, by wearing a mask, and by not attending Trump's Tulsa rally." His first example of these "radical lefties": Ana Navarro, a [checks notes] Republican strategist, albeit a never-Trumper.
Hays then bizarrely argued that George Floyd deserved to die at the hands of police much more than Cain did: "It's amazing how much respect many of these folks afford for lifelong criminals like George Floyd, who had Covid and wasn't wearing a mask in public when he was arrested. But when an accomplished African American like Cain dies, they just throw him peanuts at best, or say he was asking for it at worst."
Nicholas Fondacaro -- who seems to spend most of his waking hours in a frothing rage at people named Cuomo -- complained that CNN's Chris Cuomo "blamed President Trump for the death of conservative businessman and former presidential candidate Herman Cain from the virus, even claiming the President felt no remorse for his friend's death." Fondacaro offered a weak defense, claiming "there was no evidence that Cain contracted the virus at the rally. Cain's team has said he traveled around the country before falling ill."
Curtis Houck huffed: "MSNBC's The ReidOut did its part on Thursday night to contribute to the liberal media's shameless dancing on the grave of the late Herman Cain, suggesting that a sizable segment of the right don't believe he died from the coronavirus and used him to trash Americans living 'in that bubble' of 'stupidity' who've refused to take the pandemic seriously." houck echoed Fondacaro's weak denial of a link between the Tulsa rally and Cain contracting the virus, whining that "Reid smugly insinuated he may have contracted the virus at the Tulsa rally (despite there being no official word on whether that was the case)."
Duncan Schroeder took the whining even further:
On Friday morning's New Day, CNN co-host Alisyn Camerota and guest host Jim Sciutto brought on New York Times White House correspondent Maggie Haberman to take ghoulish shots at President Trump over the death of former Republican presidential candidate Herman Cain due to coronavirus. Proving that nothing is sacred to the partisan hacks at CNN, Camerota nastily asked if there is "any feeling inside the White House of responsibility, of guilt, of connection" to the death, since Cain attended Trump's Tulsa rally last month.
Schroeder was heavy on the adjectives, rifling through his thesaurus to add descriptors as "nauseating," "obnoxious " and "disgusting," -- he also stuck "ghoulish" in the headline -- finally huffing that "CNN has become so sick and twisted in its desire to bash Trump and help the Democrats that it will even use the death of one of Trump's close friends to attack the President."
Posted by Terry K. at 9:22 PM EDT