The MRC's Very Dumb 'State-Affiliated Media' Rant
Topic: Media Research Center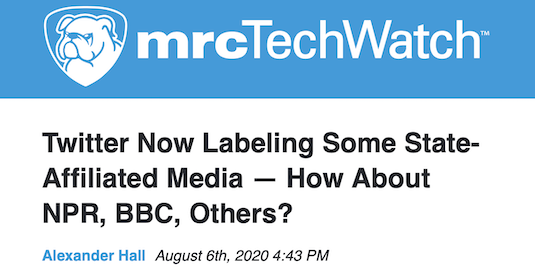 The Media Research Center's Alexander Hall wrote in an Aug. 6 post:
In an era where governments use news outlets to launder their state propaganda as objective news, one Big Tech company is now beginning to take a decent stand by labeling government and state-affiliated media.

Twitter Inc. announced that going forward, the company "will label some state-backed media accounts, as well as accounts belonging to 'key government officials' for certain countries, to create more transparency when governments and their leaders use the social-media platform to discuss important geopolitical issues," Bloomberg reported August 6.
So far so good. But then Hall takes it to a very stupid extent:
It remains to be seen what other state-affiliated outlets Twitter will label. How about NPR, which, as NewsBusters Executive Editor Tim Graham observed, "takes our tax dollars and then attacks adding the balance of our viewpoint as racist"? What about the PBS? BBC? Those three outlets fall within the United States and the United Kingdom, and none of them, as of the publishing of this piece, have labels.
What Hall doesn't admit: Graham and the MRC want NPR and PBS to be state-run media, at least when a Republican is in office. Graham and the MRC want "our viewpoint" -- in this case, conservative pro-Trump propaganda -- to be the only viewpoint heard on these outlets.
The Graham piece Hall linked to to support his claim was a June 11 post in which Graham whined about an NPR segment discussing journalistic objectivity. If you want to see what the MRC really thinks about journalistic objectivity, you only need to look at its "news" operation, CNSNews.com, which is very much the right-wing, pro-Trump propaganda outlet they want NPR and PBS to be.
Hall's evidence for his attack on PBS, was a link to the MRC's short-lived attempt earlier this year to push for defunding of public broadcasting by complaining about how many medical supplies could have been bought with the $75 million it got from one of the coronavirus relief bills passed by Congress. But as we pointed out, at least some of that money went toward responding to the pandemic and protecting its employees -- meaning that the MRC was effectively rooting for public broadcasting employees to get sick and die. (And it ignores the fact that the MRC itself got more than $1 million in coronavirus relief, making its complaint doubly hypocritical.)
The funny thing: If the MRC got its wish to turn PBS and NPR into the pro-Trump propaganda operations they desire, Hall would be attacking Twitter's "state-affiliated media" designation. Because the MRC cares nothing about journalism and cares everything about making sure its pro-Trump propganda dominates.
Posted by Terry K. at 8:37 PM EDT