MRC Flails In Trying To Discredit Book By Trump's Niece
Topic: Media Research Center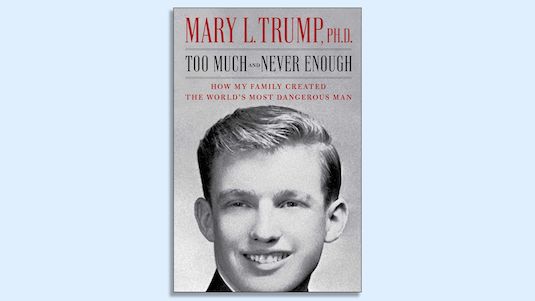 The Media Research Center had itself a big ol' meltdown over a book highly critical of President Trump written by his niece, Mary Trump -- so much so it tried to discredit the book as unverified, despite the fact that, as a member of the Trump family, Mary lived a lot of what is in the book.
In a July 9 post, Duncan Schroeder ranted that CNN hosts "brought on political correspondent Sara Murray to salivate over the supposedly tell-all book authored by President Trump's niece, Mary Trump. Scrapping all pretense of being journalists, the Democratic hacks eagerly lapped up the book's "revelations" without even questioning the truth of the wild accusations (like calling Trump a "sociopath")." He went on to huff that host John Berman "clearly does not care whether or not the book is true. He only cares about making Trump look bad with the presidential election looming."
Schroeder then went full whataboutism: "Berman loved the claim that the President paid someone to take his SAT, but conveniently forgot Joe Biden's disreputable academic reputation. ... Speaking of the election, if Berman were to be an actual journalist instead of a Democratic mouthpiece, he could discuss Joe Biden's academic record. Biden has plagiarized multiple speeches and was caught cheating in law school. He also lied about finishing in the top half of his class in law school."
Schroeder expressed his purported concern over the accuracy of Mary Trump's memoir in a July 15 post complaining that a CNN anchor's interest in former Trump lawyer's upcoming memoir "must be like the allegedly tell-all books CNN has eaten up from John Bolton and Mary Trump without any reservations for ascertaining the truth of their claims."
In another post the same day, Schroeder further complained about Mary Trump's book:
Without any fact checking, the hacks took the claims that Mary Trump makes about President Trump at face value in an effort to make it a campaign issue. Louis also venomously declared that Trump supporters are white "supremacists" and that they are "those who were always opposed to all of the civil rights movement from the 1960s forward."

[...]

Are any of the claims in this "devastating portrait" verified? Would it not be the job of a news organization to determine whether or not such claims about the President are true or not? Oh wait, CNN is not a news organization, it is the propaganda arm of the Democratic Party.

After one anchor pointed out that Mary Trump "has a certain amount of credibility and insight" into her uncle, Schroeder raged: "'Credibility?' Literally not a single claim in the book is verified."
For the first time in these three posts, Schroeder offered something approaching evidence to bolster his claim that Mary Trump is a liar: "It's also interesting that they did not bring up Mary Trump's allegation that Trump cheated on his SAT. When Berman and Camerota last discussed it, they mocked Trump over it. But the reason that they did not bring the claim up is that the wife of the man who allegedly took the SAT for Trump said it was false."
Schroeder cited a New York Post article quoting the widow of the man, Joe Shapiro, denying the claim. But Mary Trump has since said it was another Joe Shapiro who took the test for Trump (though she has no documentation to prove it).
The next day, Michael Dellano joined in the attack, complaining that MSNBC host Lawrence O'Donnell "expressed his unwavering belief in the unhinged screed from Donald Trump's niece, specifically the wild and hateful assertion that the President cannot feel human emotions," further whining that "O'Donnell and the rest of the partisan hacks in the media read the Mary Trump book as if it's the Gospel, not because it is true, only because it fits their leftist narrative."
(You know who also pushes things because they fit a narrative, not because they're true? The MRC.)
Joseph Vazquez followed up with a post declaring that Trump has a "glaring bias" because she "had been a Democrat donor for years, donating to the party, Hillary Clinton and Barack Obama," adding: "Had a responsible unbiased media reported this information, it would have made Mary Trump look as she is — extremely biased concerning her wild claims about her uncle."
Kristine Marsh, in a July 23 post, even attacked late-night host Stephen Colbert for having Mary Trump on as a guest:
After having a meltdown on live television on election night, Late Show host Stephen Colbert revealed Wednesday that he might still need therapy to recover from the shock he experienced four years ago. Psychologist Mary Trump should've been charging Colbert, as the late-night host spent 38 minutes (with breaks) trashing the president and whining about how he's traumatized the country, to Trump's Democrat donor niece.
Marsh dismissed Trump's book as a "gossipy tell-all," ultimately pivoting to whataboutism: "Will Colbert or the media also do a deep dive into Joe Biden's family history to find skeletons in his closet? Well considering how the media dismissed and mocked the former VP's corruption scandal with his son on the board of Ukraine company Burisma and that was recent history, I think we know the answer to that question."
Marsh tried to follow in Schroeder's footsteps in making lame attempts to discredit the book in another post the same day, cheering how in an appearance on "The View." Trump "was unexpectedly grilled by co-host Meghan McCain, over allegations she makes in her salacious tell-all book. While the liberal hosts took the Democrat donor and Trump critic's wild claims at face value, McCain called her out, asking if she was just doing this to 'get a paycheck.'" Marsh didn't reveal what part of her MRC paycheck was received in exchange for writing that post.
Dellano returned to exhibit the MRC's usual craven callousness toward the safety of anyone who's not a Trump dead-ender in a July 30 post bashing MSNBC's Joy Reid for expressing concern that "Trump supporters may physically attack the President's niece, Mary Trump, over her book bashing her uncle." He declared that "Reid's clear objective was to incite fear into her viewers by thinking that the President and his supporters will act violently against Mary Trump' and that "Reid's statements only incite fear and create division, which has been exactly the goal of the left-wing media since Trump took office."
As if Dellano the rest of the MRC are not trying to incite fear and create division by viciously attacking anyone who dares criticize Trump.
Posted by Terry K. at 5:44 PM EDT