MRC: How DARE The Media Treat AOC Like An Actual Human!?!
Topic: Media Research Center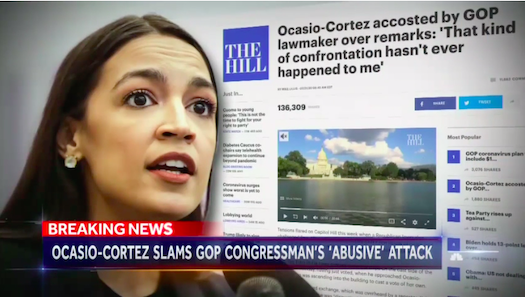 Right-wingers hate Rep. Alexandria Ocasio-Cortez and think she deserves everything bad that happens to her and that she's making up some of that. When CBS' Gayle King suggested that people can learn from her tough response to a crude slur from a fellow male (Republican) congressman, the Media Research Center's Kyle Drennen had a meltdown in a July 24 post, in which he insulted AOC merely for existing, expressed doubt that the slur actually happened, and threw a couple insults at King for good measure:
Just a couple weeks after CBS This Morning co-host and Democratic donor Gayle King proclaimed that "we all need to take a class" from a radical Black Lives Matter activist who supported rioting and property destruction, on Friday, the left-wing anchor demanded that everyone take "decency class lessons" from unhinged socialist Congresswoman Alexandria Ocasio-Cortez.

[...]

Remember, this is the same Ocasio-Cortez who in 2019 labeled immigration detention centers along the U.S. southern border "concentration camps." It was so wildly offensive that even members of the Democratic Party press, like NBC's Chuck Todd and CNN's Jake Tapper, hammered her for the comment. Even so, this is who King thinks we should look to as a beacon of civility.

King's education mandate came in reaction to Ocasio-Cortez taking to the House floor on Thursday to accuse Republican Florida Congressman Ted Yoho of calling her a "f**king bitch" during a heated argument on the steps of the Capitol on Monday. The exchange has been highly disputed and Yoho has flatly denied using any such language.

Of course that doesn't matter to the leftist media, they so want the far-left Democrat's account of the incident to be true that reporters on NBC, ABC, and CBS all eagerly ran with the story Thursday evening and Friday morning.

[...]

Ocasio-Cortez is a left-wing bomb-thrower who delights in attacking her political opponents with outrageous rhetoric. The leftist media are no better. No one needs a civility lecture from radical Democrats or their cheerleaders in the press.
Drennen made sure not to quote any of what Ocasio-Cortez said in response to Yoho's crude slurs so his readers would have an idea of why King thought it was so powerful, but he did excerpt a paragrpaph from Yoho's non-apology and his claim that he was "strongly denying use of any profane or vulgar language." He then whined that "the tone of the reports" about the incident "made it clear that Ocasio-Cortez was the hero of the story and Yoho was the 'sexist' and 'misogynist' villain representing a pattern of dehumanizing women that is all too familiar in our society and even in the halls of Congress.'"
The MRC has been getting more shrill and hateful of late, and Drennen's post is an example of how that tone has changed for the worse.
Posted by Terry K. at 9:54 AM EDT