MRC Covers Woodward Book of Trump Interviews By (Of Course) Attacking Woodward
Topic: Media Research Center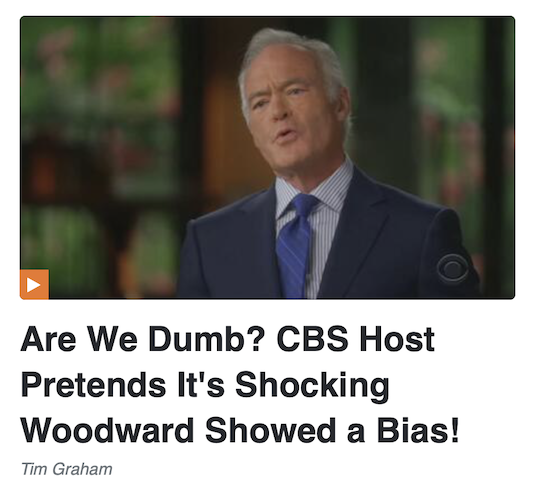 The Media Research Center was in the midst of pro-Trump damage control over an Atlantic article about President Trump disparaging U.S. troops when it had a new crisis to contend with: Bob Woodward's book based on hours of interviews with Trump. Naturally, the MRC went into shoot-the-messenger mode, attacking Woodward as biased even if it couldn't dispute that he was directly quoting what Trump told him.
The MRC's first post on Woodward's book was, oddly, from Gabriel Hays focused on the reaction of "Hollywood Twitter." But he was already defending Trump's remarks to Woodward about publicly downplaying the coronavirus threat when he knew it was more serious, declaring that the remarks "occurred during the early stages of the Trump administration's Chinese virus response (when people like House Speaker Nancy Pelosi (D-CA) and former Vice President Joe Biden sat on their thumbs, badmouthing the president's xenophobic actions)."
Tim Graham complained that Trump was criticized for talking to Woodward, making sure to portray Trump as the real victim: "So, to review: Trump is stupid to grant all his interviews to Sean Hannity and Fox. And now he's stupid to grant interviews to Bob Woodward. These leftists will criticize the president no matter which decision or direction he takes. The only consistency they show is that they always want Trump defeated, removed, finished."
Curtis Houck churned out another gushing piece on Kayleigh McEnany, huffing that "Acela corridor-based journalists... tried (and failed) to browbeat Press Secretary Kayleigh McEnany over claims that Trump 'lied to the American public' about COVID-19's threat to America and was therefore complicit in having murdered nearly 200,000 people. And yes, that actually was the narrative these vile hacks peddled."
Alex Christy groused that people on MSNBC "came together for some Monday morning quarterbacking on President Trump's handling of the pandemic, with Woodward's Washington Post colleague Phillip Rucker using the book to blame Trump for 190,000 COVID deaths," adding, "It's one thing to criticize Trump, but it is unscientific nonsense to say that he is responsible for 190,000 deaths from a novel virus."
Mark finelstein grumbled about MSNBC host Joe Scarborough's "grim, paternalistic, pursed-lip approach to the anti-Trump coronavirus spin coming out of the latest Bob Woodward book."
Scott Whitlock complained: "It's Bob Woodward, so it must be another Watergate scandal, right? That's the thinking on CBS This Morning on Thursday as Gayle King and John Dickerson compared the leaked quotes in the latest Woodward tome Rage to the 1970s scandal that brought down Richard Nixon."
Kristine Marsh touted Meghan McCain's spin that "the media has an agenda against Republicans so if you talk to them you're guaranteed to 'look bad,'" ignoring the fact that Woodward has his Trump interviews on tape.
Kyle Drennen insisted that "Dr. Anthony Fauci completely dismantled the anti-Trump narrative being pushed by Bob Woodward regarding the President's handling on the coronavirus pandemic" by claiming that Trump didn't mislead the public, playing the victimization card by claiming that "Any evidence, like Dr. Fauci's comments, that runs counter to the narrative the leftist media wants to push will simply be censored or downplayed in a desperate attempt to damage Trump."
Nicholas Fondacaro huffed that CNN's Jake Tapper interviewed Joe Biden in footage that featured him "going off on President Trump and Tapper slow pitching him excerpts from Bob Woodward's new anti-Trump book."
Houck returned to bizarrely turn the story into anti-Biden spin: "On Thursday afternoon, President Trump continued to distinguish himself from Joe Biden on access with another White House press conference that featured snarky, Jim Acosta-like questions from ABC's Jonathan Karl (even though he's written about his disdain for Acosta's style) and far-left Washington Post reporter and MSNBC contributor Phil Rucker as they both accused him of having lied to the American people about the severity of the coronavirus pandemic."
Graham devoted an entire column to deflecting from Trump's words by blaming the media and playing whataboutism: "Let's put aside the nagging question of why Republican presidents grant interviews to this liberal Watergate war horse. Let's focus instead on the nastiness of blaming hundreds of thousands of deaths on the president. Imagine, for a minute, that President Hillary Clinton was in power when the coronavirus arrived from China. Would the press place a single death at the White House door?" Well, Graham certainly would.
Geoffrey Dickens registered his own complaint: "A Bob Woodward book with so-called embarrassing details about a Republican president is like catnip for the DC/NY media crowd. ... If it all sounds familiar, it is: the commotion over the leaks and Woodward interviews follows a pattern when it comes to his previous books that bash GOP presidents."
Finally, Graham ranted about an interview Scott Pelley of "60 Minutes" did with Woodward:
How stupid does Scott Pelley think we are? Can we really be told after five years of fire-breathing televised Trump hatred that we live in a world where reporters stick to reporting, not editorializing?

[...]

Pelley touted Woodward as a destroyer of presidencies, the man whose "first investigation, reported with Carl Bernstein, led to the resignation of Richard Nixon." But there it was near the end of Sunday night's interview, Pelley claiming reporters are "not supposed" to reach "editorial conclusions" about presidents!

[...]

The only conclusion that can be reached here in this discussion between two gray-haired retirement-age journalists that this is simply a shameless infomercial, using the antiquated notion of journalistic objectivity to add shock value and sell more books for Simon and Schuster, another affiliated Viacom-CBS property. The corporate synergy requires this kind of con artistry.
Graham cranked out another column dismissing Woodward as "the most overpraised journalist in Washington ... who is the same age as Democratic presidential nominee Joe Biden but is still trotted out with great fanfare as the conquering hero of Watergate."
Anything to avoid having to discuss what Trump actually said to Woodward, eh?
Posted by Terry K. at 9:54 PM EDT
Updated: Thursday, October 1, 2020 12:34 AM EDT