Who Is The MRC's Graham Heathering Now?
Topic: Media Research Center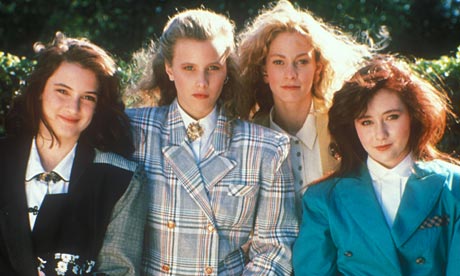 The Media Research Center has been on quite the Heathering binge lately -- attacking well-credentialed conservatives for the sin of being insufficiently conservative, as defined by a refusal to criticize anything Presient Trump does, no matter how petulent or non-conservative he acts. That hasn't stopped.
Tim Graham devoted his July 15 column to bashing conservative Michael Gerson:
Washington Post columnist Michael Gerson has a Republican pedigree and an evangelical Christian background. He wrote profound speeches for former President George W. Bush, who was mocked as a mangler of the English language. Today, he sounds like a speechwriter for the gaseous opening of the Brian Stelter show on CNN.

The headline of a recent Gerson column was "Trump has taken up residence in an alternate political reality." Gerson writes the most urgent national challenge is how "the president inhabits a different country from the rest of us."

One of the most consistent (and consistently annoying) tropes of Stelter's CNN is how the network claims its opinionated hot takes are "reality," that it deals in Facts. When the president disagrees with its opinionated hot takes, he's living in an "alternate reality."

[...]

Consider how "reality-based" Gerson describes Trump's current belief system about our country: "It is a land where the novel coronavirus is harmless. Where hydroxychloroquine is still a miracle drug. Where President Trump's handling of the pandemic is an example to the world. It is a land where Black Lives Matter is a movement of looting and violent subversion. Where the Confederacy is part of 'our heritage.' Where police brutality is the desired norm."

That, in "reality," is not an objective description of Trump's beliefs. It's a hostile political cartoon, like so much of CNN's reporting from "reality."
Graham also found a way, as he usually does, to excuse Trump's constant stream of lies by adding some whataboutism: "It is obvious to everyone that Donald Trump boasts and exaggerates about his greatness. Just as it was obvious that former President Barack Obama never needed to boast or exaggerate about his greatness; he had CNN and the rest of the "objective" media gang to do it for him."
Graham defended Trump further, even while conceding that Gerson has a point: "Gerson was making a larger and less cartoonish point about the president being unwilling to consider opposing points of view, even within his circle of advisers. Every president should be pressed to consider dissenting views and advice. But you can hardly say Trump isn't faced with that dissent everywhere, and even within his team, he has to wonder which adviser is going to burn him anonymously in Gerson's newspaper."
When unambigously right-wing Fox News host Chris Wallace conducted a relatively tough interview of Trump, Graham spent a July 20 post attacking Wallace by going the whataboutism route, complaining that a interview he did withJoe Biden wasn't similarly tough:
When President Trump complains about Fox News Sunday host Chris Wallace pushing hard questions on him, the natural curiosity is to go back and look at how Wallace pressed Joe Biden. He interviewed Biden on March 1, 2020, which was not a common occurrence. At the end, Wallace joked "Please come back in less than 13 years, sir."

The interview began with a lot of horse-racey stuff about battling Bernie Sanders for the nomination. Then he asked if the socialist Sanders could hurt the party down the ballot, and Biden in a vague way said Yes. Then came the bizarre part, when Wallace sounded just like a Chuck Todd. He insisted Biden was a "moderate," which Biden didn't really want to accept!

[...]

Wallace did fact-check Biden in one question on his bizarre lie about getting arrested trying to see Nelson Mandela in South Africa.

[...]

ABC, CBS, CNN, MSNBC, NBC and PBS all failed to air or note this Soweto tall-tale exchange after the Fox News Sunday interview. There were no stories hailing Wallace for an "A-plus accountability interview." Chris Wallace is only making news when he's challenging Trump, not Biden.
And Graham only writes about his fellow conservatives when they haven't drunk the same amount of Trump Kool-Aid that he has.
Posted by Terry K. at 9:45 PM EDT