MRC's Double Standard On 'Cancel Culture'
Topic: Media Research Center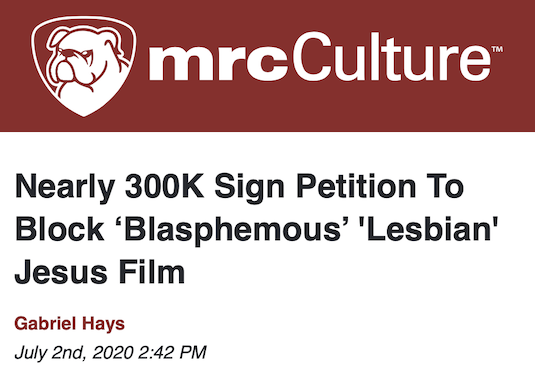 The Media Research Center loves to denounce "cancel culture" -- a July 11 post by Gabriel Hays, for example, complained that a letter "signed by prominent leftists and liberals decrying Cancel Culture" asserted that "Cancel Culture doesn't exist" and declared cancel cluture to be a "free speech-killing phenomenon."
But Hays is a joyful proponent of cancel culture when it involves trying to cancel opinions he disapproves of. Hays ranted in a July 2 post:
Just in time for the BLM folks who are fed up Western Civilization's depiction of White Jesus, a new film depicting Christ as a lesbian is currently looking for a major Hollywood distributor. The film's premise is so noxious that nearly 300,000 people have signed a petition to make sure the "Christianophobic" film doesn't get a wide Hollywood release.

Hundreds of thousands of people have signed a petition to prevent the wide release of the reportedly blasphemous film titled Habit. The movie which is currently eyeing Warner Brothers and Lionsgate as major distributors, depicts a female Jesus played by Paris Jackson, the late Michael Jackson's daughter, who has her own modeling and film career.

According to the petition, which has been gaining traction on Change.org, the film's Jesus is not only female, which is heretical and subversive enough, she is a lesbian who may or may not have a relationship with the film's main character, a nun played by former Disney Channel star Bella Thorne.

The petition called Habit "blasphemous" and "Christianophobic garbage." It stated, "A new blasphemous Hollywood film is predicted to come out soon depicting Jesus as a lesbian woman. The film 'Habit' stars Paris Jackson who plays the role of 'lesbian Jesus.'"

The page asked potential petitioners to help "spread awareness and wake people up to the Christianophobic garbage that is spread nowadays, but is somehow accepted and praised by society." The good news is that the petitioner's goal of reaching "300,000 signatures" has almost been fulfilled. On July 2, the number of signatures reached 277,517.
Hays concluded: "Hopefully, the film, – which is currently in post-production – doesn't see the light of day. Please sign the petition at Change.org, so that our Lord isn't made a disgusting mockery by our own film industry." Not a word about cancel culture or a concern about killing someone else's free speech.
What a hypocrite.
Posted by Terry K. at 4:03 PM EDT