MRC Gives Mark Levin A Platform To Attempt Cancel Culture
Topic: Media Research Center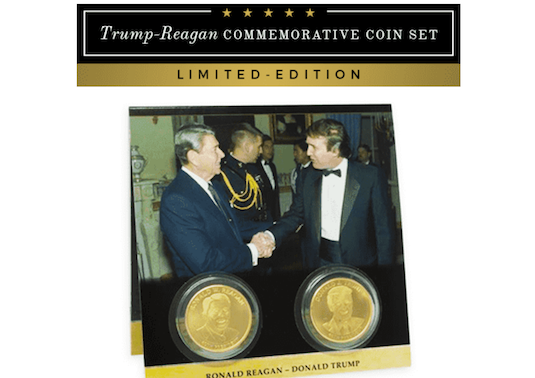 The Media Research Center thinks "cancel culture" is a bad thing -- unless it's the ones trying to do it. Tim Graham tried to pull some cancel culture in a July 26 post, complaining that the Ronald Reagan Presidential Foundation's request that President Trump stop using a commemorative coin set featuring him and Reagan as a giveaway for donations to his re-election campign is somehow illegitimate because the head of the foundatioon's board, Frederick Ryan, is also the publisher and CEO of the Washington Post.
Graham quickly pushed for canceling Ryan: "This raises the question: why didn't the Post insist that Ryan drop his Reagan Foundation responsibilities when he became publisher of this very anti-Trump, anti-Reagan newspaper? And why didn't the Reagan Foundation see a liberal-media conflict?" He then sneered: "This makes about as much sense as the CEO of Fox News running the Jimmy Carter Center." This may be the first time Graham has admitted that Fox News has a right-wing bias.
Graham then called for cancel-culture backup from MRC buddy Mark Levin, who ranted of Ryan's employment that "given the Washington Post's leftist agenda, and the conservative legacy of the great Ronald Reagan, this appears to me to be a huge conflict" and huffing, "Mr. Ryan, decide who and what you want to be, but it's obvious you cannot be both the Washington Post publisher/CEO and the Reagan Library board chairman when there's a clear conflict."
What neither Graham nor Levin bothered to do, however, was contact anyone who's actually close to the Reagan family or foundation for their opinion. Newsmax talked to the guy who's best known these days for keeping the Reagan flame alive, his adopted son Michael, and found that his view was different from the MRC cancel culture:
The Ronald Reagan Presidential Foundation and Institute is "100% correct" in its pushback against President Donald Trump's campaign for its use of a photograph of President Ronald Reagan and Trump shaking hands to market an embossed coin for prospective donors, the late president's son Michael Reagan told Newsmax TV on Monday.

"If you're going to use Ronald Reagan's likeness, you have to go to the [Reagan] library and get permission to use the likeness," Reagan said on Monday's "Greg Kelly Reports." "Nobody got permission to use that likeness."

Further, Reagan told Kelly, it would be illegal for the Reagan Foundation, as a 501(c)(3) nonprofit organization to become involved in a political campaign and look as if it is offering a "tacit endorsement" of a campaign.

Trump, he added, is "absolutely wrong" with his use of the likeness and even if one would "like to see them together," and even if the late president might have endorsed him, "you can't" use the likeness to imply an endorsement, Reagan told Kelly.

Trump and others have also complained the move from the Reagan Foundation to block the use of the image was spurred by The Washington Post publisher Fred Ryan, who chairs the foundation and was the late president's chief of staff after he left the White House, but Reagan told Kelly that Ryan is not the issue.

"There's a million people who have taken photos of my father shaking hands," said Reagan, but those cannot be used as endorsements for political campaigns.
So Ryan is not just some random guy at the foundation -- he was Reagan's post-presidency chief of staff. That's a connection neither Graham nor Levin noted.
Meanwhile, Ryan's Post bio shows he's eminently qualified for both jobs. Not only does it note that before he became Reagan's post-presidency chief of staff, he worked in the administration from 1982 until its end -- something that Levin, whom Graham touted as a "Reagan administration alumnus," almost certainly knows but chose not to mention in his rant -- he was for nearly 20 years president and chief operating officer of Allbritton Communications, which owned several TV stations, including one in Washington D.C., before selling them a few years back and also operates politically-obsessed publication Politico, for which he served as president and CEO.
We don't recall a whisper of complaint from conservatives about Ryan in either of those positions when he held them, or his current job at the Post until now -- and he's been at the Post since 2014. But now that it's been revealed, the MRC's cancel-culture squad has come for him.
The fact that absolutely nothing has happened on this front since -- even the MRC hasn't done anything further with it -- shows how weak the MRC's game is on this front.
Posted by Terry K. at 8:22 PM EDT