CNS Serves Up Pro-Barr Bias In Reporting On Barr Testimony
Topic: CNSNews.com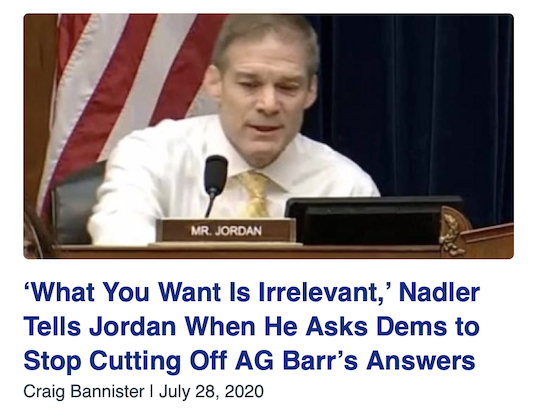 We've noted before the abject bias CNSNews.com has in covering congressional hearings: playing up questions asked by Republicans and ignoring Democrats unless they can be cherry-picked in a way that reinforces CNS' anti-Democrat narrative. That happened again when Attorney General William Barr testified before the House Judiciary Committee on July 28.
Things kicked off with a preview by Melanie Arter from Republican committee member Jim Jordan ranting on Fox News about how Democrats have been out to get Barr. For the first article on the hearing itself, Barr got an article to himself from Craig Bannister to push Trump administration talking points "defending the presence of federal marshals in Portland, Oregon during the ongoing riots, where violent mobs are using industrial-grade fireworks and kerosene-filled balloons to try to set federal property ablaze." He also was given a second article by Arter to announce (complete with transcript excerpt featuring Jordan) that he had named an attorney to investigate the "unmasking" of Michael Flynn regarding the conversations with Russia he lied about (never mind that his name was never "masked" in the first place).
Arter also served up some right-wing suck-up in an article featuring Republican Rep. Kelly Armstrong telling Barr "to tell federal courthouse employees - the prosecutors, clerks, judges, courthouse personnel, and public defenders "thank you" for still conducting business despite rioters attacking federal courthouses in cities like Portland, Ore."
The only time a Democratic member of Congress got mentioned regarding the hearing came in an article by Bannister featuring Jordan whining to committee chariman Jerrold Nadler about how "Democrats used their time [to] level accusations at Attorney General Barr – then, reclaimed their time before he was able to reply," to which Nadler responded to Jordan that "what you want is irrelevant." Bannister pushed the talking point again in an article the next day, claiming that "Even though House Judiciary Committee Democrats repeatedly cut him off, House Speaker Nancy Pelosi (D-Calif.) criticized Attorney General Barr for being 'not forthcoming' in his testimony Tuesday."
And that's how CNS violates its mission statement to "fairly present all legitimate sides of a story."
Posted by Terry K. at 11:30 AM EDT