In Midst Of Pandemic Surge, MRC Remained A Florida Apologist
Topic: Media Research Center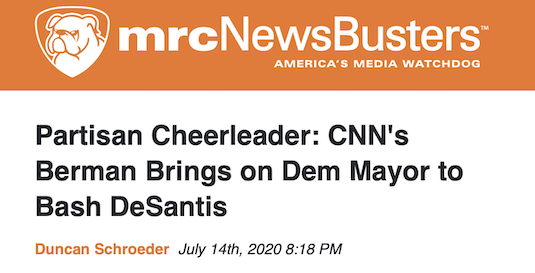 We've documented how the Media Research Center praised Florida and its Republican governor, Ron DeSantis, earlier this year for low coronavirus infection numbers -- but when those numbers started spiking this summer, it had to go into defense-and-deflection mode by throwing out a lot of whataboutism regarding New York's case numbers. That deflection has continued apace.
A July 14 post by Kathleen Krumhansl (also available in Spanish) complained about Latino news networks, where allegedly "numbers are routinely bent to fit their ongoing glorification of New York, and demonization of Florida and other Republican states." The whataboutism came hot and heavy: "According to data from the CDC, in New York City alone, the fatality rate is 277.7 deaths per hundred thousand; for the whole state of Florida, total deaths reach 19.9 deaths per hundred thousand."
The same day, Duncan Schroeder huffed that "CNN co-host John Berman brought on Miami Beach's Democratic Mayor Dan Gelber to spread liberal propaganda about Florida's response to COVID-19. Throughout the segment, Berman bashed the state's Republican Governor Ron DeSantis and attempted to make Gelber's handling of the pandemic look better." He also huffed whataboutism: "Attacking DeSantis is nothing new for Berman. He's repeatedly savaged the Republican, but refused to hold Democratic governors such as New York's Andrew Cuomo accountable for their mismanagement of the virus."
Kristine Marsh pounced on a report about "inflated, erroneous positive infection data"in Florida because it counters "the media's determination to vilify Florida as the new coronavirus epicenter," going on to tout how Fox News shows like "Fox and Friends as well as the FNC's primetime lineup shared and discussed the report Tuesday, and Monday night, respectively. Laura Ingraham said the report exposed a 'potentially massive scandal brewing regarding the way hospitals, labs, and others are reporting the percentage of positive test results.'" But as an actual fact-checker pointed out, while there have been discrepancies in reporting numbers, they don't explain away the surge in Florida coronavirus cases, as Marsh seems to be suggesting.
Schroeder also complained that a doctor who appeared on CNN was bashing Republican governors like DeSantis for their mismanagement of the pandemic, grousing that he should "have noted that California had more deaths than Texas and Florida yesterday."
Krumhansl returned to complain (in Spanish as well) that Univision provided "sympathetic coverage of a lawsuit filed by Florida's largest teacher's union against DeSantis" over opening schools in the fall, ranting that "Univision's viewers did not hear from Hispanic parents who want schools to open, nor from experts with views on how to safely make that happen, nor from anyone from the DeSantis Administration. She went on to assert that Univision "supports and advocates for infinite lockdowns," though she offered no alternative idea for stopping the spread of coronavirus.
Adter that, though, the MRC seemed to finally tire of defending Florida and DeSantis, apparently realizing the situation there was too dire for even diehard partisans to defend.
Posted by Terry K. at 8:01 PM EDT