Conflict of Interest: CNS Lets Liberty U Student Write About University's President
Topic: CNSNews.com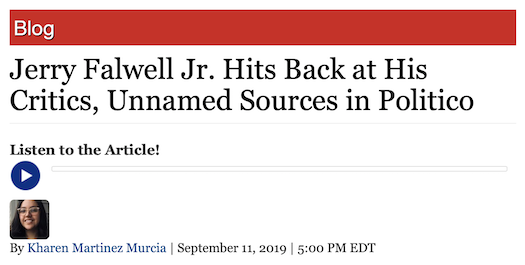 A Sept. 11 CNSNews.com article by Kharen Martinez Murcia took the side of Jerry Falwell Jr. following the publication of an expose in Politico on his tenure as president of Liberty University featuring allegations of self-dealing and creating a culture of fear at the school. She touted Falwell complaining that the criticism was an "attempted coup" that is "partially motivated by his ardent backing of President Donald Trump" while dismissing Falwell's critics as "unnamed sources." Martinez Murcia also repeated Falwell's mendacious defense of a photo of Falwell at a "dance club," an issue because, as she concedes, "Liberty University's honor code prohibits students from attending dances or consuming alcohol" (though she didn't mention that more photos of Falwell at the club surfaced).
But it's not until the end of the article that we get a parenthetical disclosure: "Kharen Martinez Murcia is a third-year student at Liberty University."
While it's nice and proper that Martinez Murcia's connection to Liberty was disclosed, that connection also means that she shouldn't have done this story at all. It can be easily argued that the article's pro-Falwell bias was because she didn't want to run afoul of him and the alleged culture of fear he's fostering at the school she's attending -- meaning she has a personal interest in writing the article the way she did.
Martinez Murcia is apparently CNS' intern for the fall semester. But if all she's learning is how to write biased articles, it's not really much of a true journalistic experience. It does, unfortunately, prepare her to work at Liberty's student newspaper.
Posted by Terry K. at 1:24 AM EDT