MRC's 'Facts Feared by Leftist Media' Short On Actual Facts
Topic: Media Research Center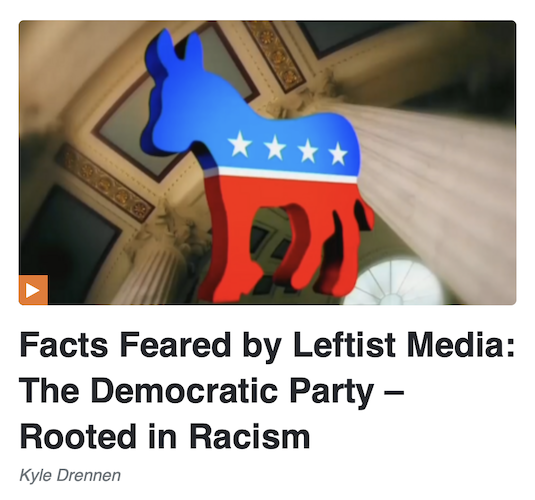 Last month, the Media Research Center started a thing called "Facts Feared by Leftist Media," which are just a list of right-wing talking points on particular issues -- which, it turns out, are themselves a bit on the fact-deficient side.
In a post on how Planned Parenthood was "founded on racism and eugenics," Kyle Drennen wrote: "Planned Parenthood was founded by enthusiastic eugenicist Margaret Sanger in 1916. Sanger's racist views were well-established, declaring that 'minorities (including most of America's immigrants) are inferior in the human race, as are the physically and mentally handicapped.'"
But that quote is not from Sanger; it's from a 2017 Washington Times column by right-wing activist (and onetime director of communications at WorldNetDaily) Rebecca Hagelin, who we can assume (and Drennen should assume) is more than a bit biased against Planned Parenthood.While Sanger was very much a eugenicist, there's no evidence explicit racism drove her beliefs.
In a post on Black Lives Matter, Drennen ranted that "what reporters don't want people to know is that the group was founded by self-avowed 'Marxists' who demand 'revolution' and seek to unmake American society." As we've documented, the MRC has been on a tear trying to brand BLM as "Marxist" because of its founders, despite the fact that even other conservatives admit BLM as it's currently constituted is not pursuing Marxist goals.
In a July 23 post on how the Democratic Party is "rooted in racism," Drennen huffed: "On Wednesday night, CBS Evening News and NBC Nightly News both promoted a blatant lie from presumptive Democratic nominee Joe Biden, who claimed Donald Trump was America's 'first racist president.'" But Drennen doesn't deny that Trump is racist -- just that he's the "first racist president."
Drennen added: "Despite DNC operatives in the media routinely attempting to tar Republicans and conservatives as 'racist,' history shows it's the Democratic Party that has to answer for the nation's worst racial atrocities – from the birth of the Confederacy, to the founding of the Ku Klux Klan, and right through the Jim Crow era." Or course, the media is talking about what's happening today; nobody's denying that there was racism in the Democratic Party up until the 1960s -- when it began supporting civil rights legislation and those Democrats who wouldn't became Republicans.
Drennen also whined: "Even with this mountain of damning evidence, many in the leftist press still try to conceal the truth of the Democratic Party's racist history. On June 30, USA Today attempted to do just that with a fake 'fact-check' that pretended Democrats weren't responsible for the Civil War or founding the KKK." Drennen is lying; the fact-check specifically responded to the claim that the Democratic Party, not individual Democrats, were responsible for the Civil War or the KKK.
Drennen concluded with more huffing: "The next time some sanctimonious reporter or Democratic politician accuses any Republican or conservative of racism, someone should ask them if they've ever opened a history book." Drennen might want to consider opening one as well so he can get a fully rounded view of American history and not just cherry-pick things that advance his employer's right-wing agenda.
On Aug. 4, Drennen did a lot of ranting about the "scandals and unhinged agenda" of "Squad" members Alexandria Ocasio-Cortez, Ilhan Omar, Rashida Tlaib, and Ayanna Pressley." They're all negative attacks that read like an Republican opposition research document; he won't mention, for instance, that a Republican congressman slurred Ocasio-Cortez as a "fucking bitch."
Drennen ultimately came up with some boilerplate for his mission: "The Media Research Center is committed to telling the truth about the left, unlike the compliant press that push its extreme views." But only certain truths, of course; inconvenient facts will be censored.
Posted by Terry K. at 8:58 PM EDT