MRC Rants Some More About 'Leftist Fact-Checkers' At Facebook
Topic: Media Research Center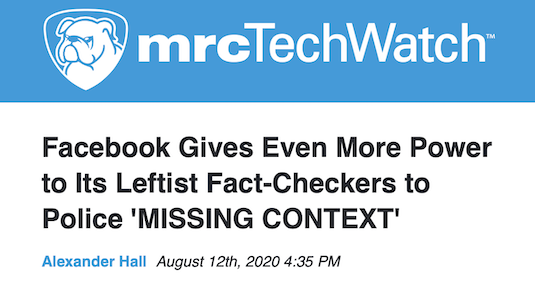 In addition to hypocritically bashing Facebook for purportedly discriminating against conservatives while censoring the fact that Facebook has repeatedly sucked up to those very same conservatives (including secret dinners between Mark Zuckerberg and Brent Bozell), the Media Research Center also kept up its war on fact-checking through attacking the fact-checkers Facebook employs.
An Aug. 12 post by Alexander Hall literally declared that it's not "fair to conservatives" to fact-check them:
Two massive announcements from Facebook have revealed just how much Facebook has given up all pretense at being fair to conservatives.

Facebook announced new rules this week clarifying its hate speech policy and stating that it may even fact-check opinion pieces on the platform. Facebook sent a statement to the International Fact-Checking Network (IFCN) Monday night, declaring that opinion pieces may not be immune from the scrutiny of fact-checkers. The next day Facebook's VP of integrity Guy Rosen vowed that the platform will launch a new crackdown on "certain kinds of implicit hate speech" in an August 11 blog post.

Facebook's devastating announcement about fact-checking was a turning point for the worse for any hopes that Facebook would be "moderate" in its moderation practices.
Hall went on to huff that "What conservatives and Christians know is that from Facebook's clear record in recent weeks, opinions that are contrary to the leftist narrative are not allowed in this 'inclusive' vision of a diverse future." Hall's example of "Facebook's clear record" was a link to a post two days before complaining that a pro-Trump group's Facebook page was "censored" -- which downplayed the fact that the page was restricted for repeatedly promoting false content. Hall apprently believes that "diversity" must include the freedom to spread lies.
Hall also lamented: "Under the guise of cracking down on the most egregious forms of bigotry, this may instead lead to more censorship of the right. Indeed, it is conceivable that Facebook could begin censoring criticism of liberal billionaire George Soros as some kind of anti-Semitic canard." Hall failed to note that his employer has, in fact, used anti-Semitic imagery in criticizing Soros. He also did;t mention that the MRC has also attacked the International Fact-Checking Network as a "Soros-funded" project and, therefore, "liberal" and untrustworthy.
Hall has moved so far right on the issue of fact-checking that he's even lashing out at the Anti-Defamation League. After noting that "ADL CEO Jonathan Greenblatt tweeted his support for the changes" at Facebook, he then ranted:
Greenblatt served as "special assistant to President Obama," and before that "directed an initiative at the Aspen Institute, a George Soros-financed, left-leaning nonprofit."

As far as hate speech is concerned, Facebook would be better off if it ignored the advice of the Anti-Defamation League, whose very purpose appears to be defaming conservatives. The ADL has even alleged that the "OK" hand gesture and imagery "directed against antifa" are signs one may be a white supremacist.
Well, given that white supremacists have, in fact, labored to turn the OK symbol into a symbol of support and that they also use anti-antifa symbolism, the ADL is correct to highlight these things. Of course, Hall has complained about both of them.
It's clear that Hall wants conservatives to be able to lie on Facebook and other social media with impunity. Otherwise, there's no reason to lash out at fact-checkers.
Posted by Terry K. at 10:07 AM EDT