Last Week's Trump Coverage At CNS: Nothing But Stenography
Topic: CNSNews.com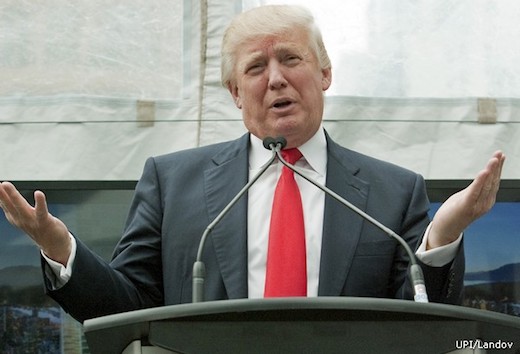 We've noted how CNSNews.com, despite presenting itself as a "news" operation, weirdly doesn't think the presumptive Republican presidential candidate, Donald Trump, is newsworthy enough to appear on its front page.
As if in response to our making that discovery, CNS quickly slapped a couple of Trump stories on the CNS front page early last week:
A June 14 article by Susan Jones summarizing a speech Trump gave on immigration and other subjects.
Another June 14 article by Jones summarizing a Trump appearance on Fox News.
In other words, no reporting, almost entirely stenography. And we didn't see any other Trump stories on the CNS front page the rest of the week.
The big Trump news last week, of course, was Trump barring Washington Post reporters from covering him for purported bias. That got mentioned in the final few paragraphs of Jones' Trump-Fox articlebut apparently did not warrant any further "news" coverage.
What did make the CNS front page last week? Some more stenography: a report on conservatives whining that there aren't enough conservatives in the college professor ranks. And a blog post on the Benham brothers describing their "Christian response" to the Orlando massacre at a gay nightclub that failed to mention that the Benham brothers are anti-gay to the point that they called gays "destructive," "vile," and controlled by "demonic forces" -- an inconvenient fact CNS loves to whitewash.
So: Perpetuating conservative memes is "news" at CNS, but reporting on its preferred presidential candidate is not. Got it.
Posted by Terry K. at 10:03 PM EDT
Updated: Sunday, June 19, 2016 10:07 PM EDT