Against History: MRC Objects To Another Historic Event Being Called Historic
Topic: Media Research Center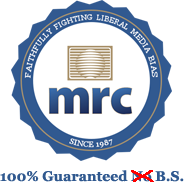 The Media Research Center has long had a weird obsession with complaining that the media labels historic events as "historic" if said events don't benefit the MRC's right-wing agenda.
Which brings us to Hillary Clinton clinching the Democratic Party's presidential nomination, the first time a woman has done so for a major political party.
Cue the MRC whining:
Scott Whitlock grumbled: "With Hillary Clinton on the verge of officially becoming the Democratic nominee for president, outlets such as the Washington Post and U.S. News are not holding back. "It's Hillary; it's History" and "For a generation of women pushing against the limits, a singular triumph" are two examples." He further whined that these media outlets "never once mentioned scandals such as her e-mail server or Benghazi."
Kyle Drennen followed with more complaining about how the media "basked in the 'history'" of Clinton's accomplishment, making sure to put "history" in scare quotes, as if he was trying to deny it didn't actually happen.
Curtis Houck went into full rant mode, screeching that MSNBC "brought on none other than NBC News special correspondent and former California First Lady Maria Shriver to demand the American people 'pause...to think about how this is historic and unprecedented' for Hillary Clinton to become the first female presumptive presidential nominee" and made "this gushing decree for the American people to follow when Clinton declares victory" and "reiterated how imperative it is that we bow down to Clinton."
Houck was too busy frothing to notice that Shriver did not actually "demand" anything; she used the word "hope," not "demand."
Houck followed up by continuing to mistake reporting facts for being a cheerleader, asserting that "While the sun still had to fully set, CNN wasn't shy in being completely over the moon for Hillary Clinton as they dubbed her the presumptive Democratic presidential nominee and first woman to hold the title as 'a watershed moment of the 2016 presidential race and in the history of American politics.'"
Nicholas Fondacaro joined the party, complaining that ABC's "Nightline" noting that she was "making history" meant it was "an absolute Hillary Clinton lovefest."
MRC's Latino division joined the sneering with a post claiming that Univision and Telemundo "focused on the fact that Clinton is the first major party woman nominee for President, but missed another historical first: the first time a major party nominee is also under an FBI criminal investigation as she tries to win the White House."
The whining culminated with a post by Tim Graham finally conceding that Hillary getting the nomination was, in fact, historic -- then complaining that the media largely ignored in 2012 that Mitt Romney was the first Mormon to get a major party presidential nomination:
The TV networks are heavily promoting the word "historic" in Hillary Clinton's presumptive-nominee status – and "historic" is correct. This surely is a first. But in all of that hype, Clinton critics pick up a heavy whiff of suggestion – "but to make it truly historic, you have to elect her."'

"Historic" can be a factual adjective, but in the hands of the networks, it often carries a highly positive ring, often attached to liberal victories. By contrast, consider the historic nature of Mitt Romney's nomination in 2012.

[...]

So how did the TV network news programs cover this "historic milestone"? Most didn't. In a Nexis search for "Romney" and "historic" from Sunday, May 27 through Sunday, June 3, there was no mention of this fact on ABC, CBS, NBC, PBS or the (searchable) transcripts of MSNBC and Fox News.

CNN was the TV exception, noting the distinction at least five times on May 29 and 30.
Graham avoids mentioning the obvious: Only 2 percent of the U.S. population is Mormon, while roughly 50 percent are women.
Also, Graham might want to send out a memo to his MRC underlings to stop whining about historic events being accurately described as such if they want to be taken seriously as "media analysts."
Posted by Terry K. at 3:07 PM EDT
Updated: Thursday, June 9, 2016 3:16 PM EDT