MRC Decries Media 'Bias' on Assisted Suicide -- While Its Own 'News' Outlet Is Biased Too
Topic: Media Research Center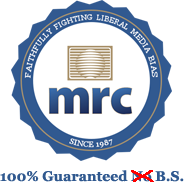 In a June 9 post, the Media Research Center's Matthew Balan complains about an NBC report on a new assisted-suicide law in California, asserting that the reporter "showed a clear slant towards proponents of the legislation by playing four soundbites from supporters, versus only two from opponents."
The slant Balan would presumably prefer can be found in an article the same day from the MRC's "news" division, CNSNews.com. In it, reporter Melanie Hunter quoted two proponents and one popponent of the law, but she made her bias clear. While a statement from one proponent of the law got only two paragraphs and the other proponent got just one paragraph, Hunter devoted a lengthy five paragraphs to a statement from the American College of Physicians opposing the law.
This means, spacewise, opponents got more space in Hunter's article than proponents.
Apparently, the MRC wants people to do what it says and not what it does.
Posted by Terry K. at 5:40 PM EDT
Updated: Sunday, June 19, 2016 6:11 PM EDT