AIM's Kincaid Joins Right-Wing Game of Abusing Vince Foster's Corpse Again
Topic: Accuracy in Media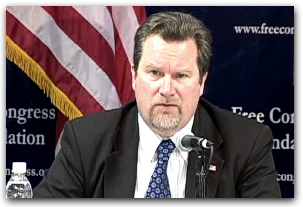 WorldNetDaily isn't the only ConWeb component overjoyed at Donald Trump bringing up Vincent Foster conspiracy theories to attempt to smear Hillary. Accuracy in Media's Cliff Kincaid is just as gleeful:
Donald J. Trump has brought up the case of the mysterious death of former Clinton aide Vincent Foster, calling it "fishy." Trump is right. Foster is the man who knew too much. He had knowledge of various Clinton scandals, including Travelgate, the Waco tragedy, and possibly some illegal activities involving national security. His body was found in a Virginia park on July 20, 1993, and the media accepted the verdict of suicide.

But as AIM founder and late chairman Reed Irvine and I reported on the case, there were so many anomalies that the Special Division of the Court of Appeals ordered an appendix added to Independent Counsel Kenneth Starr's report on the death of Vincent Foster. The appendix exposed serious flaws in the report that cast strong doubt on the suicide finding.

[...]

Yes, something was, and is, very fishy in the case of the death of Vincent Foster. Media attacks on Trump are a diversion from the media's documented unwillingness to thoroughly investigate the case. Irvine said at the time, "The cover-up is so transparent to those familiar with the facts that it is maddening to see those responsible make America look like a nation of dolts. Not that we haven't tried to make the truth known, but the brilliant men and women who decide what's fit to print and to air in the traditional media need to have their closed minds pried open."

Irvine's comments are even more appropriate now.
Like WND, Kincaid also cites former Starr investigator Miguel Rodriguez (and makes sure not to mention that he's apparently transgender now) and gives a special shout-out to fellow conspiracy-monger Hugh Turley "for assisting with this article." Which tells you all you need to know about Kincaid's prejudices.
Meanwhile, Foster's sister wrote a Washington Post op-ed who denounced "irresponsinble" and "cruel" people like Trump (and Kincaid) who cravenly use her brother's death for "political advantage." Both Kincaid and AIM have ignored her thus far,depriving us of an opportunity to see them deny their cruelty and cravenness.
Posted by Terry K. at 5:04 PM EDT